Survival Guide to Christmas Shopping on a Budget
Save money with our Christmas shopping advice.
---
---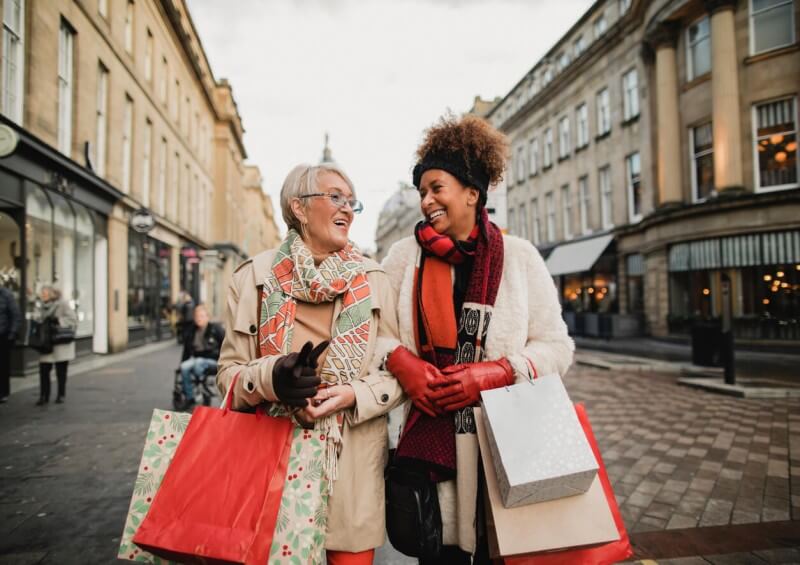 Some people love Christmas shopping, others hate it, but we all probably have to do it at some point (to some extent, at least!).
Whether you're buying for your family of five or simply your partner, our survival guide to shopping this festive season will help you save money and avoid a shedload of stress over the coming weeks.
Where to go Christmas shopping – choose carefully
Choosing where to go Christmas shopping is never easy – you want to get that fuzzy, Christmassy feeling, but it's almost impossible not to overspend when you go shopping on a high-street littered with festive decorations and enticing deals.
Shall I shop online or in-store?
As exciting and joyful as it is to walk around the markets and high-streets covered in LED reindeers and Christmas trees, you could save a considerable amount of money by buying gifts online.
This may be why that, in a recent survey conducted by insurance advice site, Bobatoo, it was established that 58% of UK consumers would be doing most of their Christmas shopping online this year.
Of course, it's not guaranteed that you'll get a cheaper price, but checking the cost of an item online before buying it in-store could help you nab a better deal.
Tip: Use Keepa, the free browser extension that tracks the price history of Amazon items and alerts you when their cost drops, it will really help with your Christmas shopping.
Buying Christmas presents on a budget
Contrary to popular belief, there are plenty of ways that you can buy Christmas presents on a budget.
Make a budget, plan your spending and manage your money carefully

Check the price online before buying in-store (and vice versa)

Consider making homemade gifts

Make full use of your loyalty cards
Making a list of exactly who you need to buy gifts for and how much you're going to spend on each individual is a handy way of managing your budget around Christmas time and ensuring that you don't overspend on certain people.
Did you know that almost 80% of Christmas shoppers will spend the majority of their budget on family members this Christmas?
Read more: Christmas on a Budget: How to Save Money at Christmas
Keeping an eye out for Christmas bargains 2019
Christmas bargains are easy to find if you know where (and when) to look.
While it's true that the majority of retailers will offer deals at some point during the build-up to the big day, the best time to do your Christmas shopping is during Black Friday and Cyber Monday.
These promotional events provide consumers with deals of up to 60% off their favourite electronics, home appliances, fashion, and all kinds of gifts when they shop at a participating retailer.
So, where can you find the best Christmas deals? Going off last year's sales, we'd suggest…
Amazon

Supermarkets (Asda, Tesco, Sainsbury's)

Argos

GAME

Carphone Warehouse

Currys PC World

John Lewis
Save money on the basics
You could save yourself quite a significant amount of money by getting cheap wrapping paper and cheap Christmas cards, rather than up-market, 'luxury' products that end up in the same place as more affordable alternatives – the bin.
If you've been really careful in your unwrapping, you could even recycle wrapping paper from the gifts you were given last Christmas!
Don't splash your cash on things that are not really all that important, especially if you have young children; after all, they're far more interested in what's actually inside the wrapping paper.
The same goes for Christmas crackers – the prizes inside the premium, up-market crackers aren't much more impressive than the cheaper alternatives.
When is the last posting day for Christmas?
The last posting dates for 2019 are:
Wednesday, the 18th of December for second class mail

Friday, the 20th of December for first class mail

Monday, the 23rd of December for special delivery
After all your hard work of saving up and spending your hard-earned cash on the best gifts for your loved ones, it would be devastating to miss these posting dates and have your parcels sitting in a mailroom on Christmas morning.
It's crucial that you make a note of these dates and try your best to post your gifts well before the deadline, just to be sure.
Start saving for Christmas as early as possible
It might be too late for this tip to be of use in 2019, but putting a set amount of money away each month throughout the year could really help you budget for future Christmases. Whether you use a standard piggy bank, a smartphone app like Yolt, or even switch to a mobile-only bank like Monzo or Starling, there are plenty of ways to control your budget more efficiently.
Read more: Starling Bank Review
Regardless of how you choose to do so, saving as early as is necessary for your Christmas shopping and being on top of your finances can make the whole celebration significantly more enjoyable and relaxed.
It's easier said than done (54% of UK shoppers will go over budget this Christmas), but our full guide to budgeting on a low income should help.
Browse our library of articles for more money-saving advice and tips on everything from car insurance to saving money for your holidays.
And if you need some additional Christmas shopping tips, take a look at the related articles below!
Related articles:
Christmas on a Budget: 10 Money Saving Tips
---