The Average Funeral Cost in the UK
---
---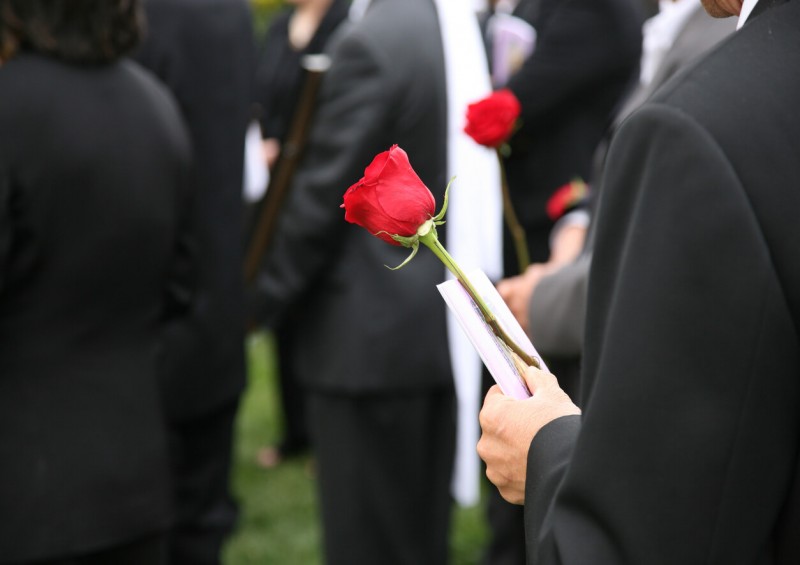 In the UK, the current average cost of a funeral in 2021 comes to a total of £4,184 according to Sun Life, while the total cost of dying is £9,263.
It's always a difficult time when a family member or close friend passes away, and it's natural to want to give them the best send-off possible.
But the average cost of a funeral in the UK is expensive, there's no two ways around it - particularly if the deceased didn't leave any money in their Will or have life insurance in place to cover the cost.
Many factors determine how much money you'll have to pay when arranging a loved one's funeral, including where you live, the type of service (a burial or cremation), directors, and various other special requests such as a specific venue, flowers, burial plots, and so on.
It can be difficult to find the right balance between an affordable funeral plan and the best celebration of someone's life. In this guide, we help break down the average funeral cost in the UK, explain how the costs can add up, and the various ways you could get advice and help with paying for it.
In this guide:
A breakdown of the cost of funerals
How much does a cremation cost?
How much is the cheapest funeral?
How much does a funeral cost?
This depends on many factors and is determined largely by the location of the funeral, the number of people that are attending, the director, any special requests, and certain fees associated.
But how much is a funeral going to cost the average person?
The average cost of a basic funeral in the UK is £4,184 according to recent research done by SunLife, with the average cost of a burial being a higher £5,033, the average cost of a cremation being less at £3,885 and a direct cremation coming in at £1,554.
This research, carried out in 2020, estimates that a basic funeral could cost an average of £5,044 by the time we reach 2025.
Wherever in the UK you want your funeral to take place does, unfortunately, have an impact on the cost. For example, Londoners pay an average of £5,253 for a funeral, while those in Northern Ireland (one of the cheapest places to have a funeral) are billed around £3,222, showing just how different the price can be depending on location.
Of course, you can't really help where you live, but there are some other factors that you can change to try and reduce the cost of a funeral in the UK. Keep reading to find out more.
How much is a basic funeral?
While SunLife's report states that the average cost of a basic funeral is £4,184 – for those with no special requests – the price can actually be significantly less than the average if you want it to be.
If you find that you're financially limited and the deceased person didn't have a trust dedicated to paying for their funeral or they didn't designate any money towards the funeral in a Will or via a life insurance policy, there are ways of getting the cost below the £4,000 mark. You will have to sacrifice certain elements though, and you might have to consider things like having cheaper flowers, a smaller venue and so on.
Read more: Putting Life Insurance in Trust - A Guide
It's still possible to have a sentimental, thoughtful and memorable funeral without expensive decorations, flowers, and a grand venue.
There's no real way to make a funeral 'cheap', as such, but you can make it more affordable by having as basic a ceremony as possible.
Very few funerals are going to be cheap because the costs associated with the services involved are always going to add up, but it can be extortionate if you aren't careful with the budget. It can be easy to get carried away with the desire to give your loved one the best send-off possible, but it's important to avoid overspending where possible.
The total cost of dying is £9,263
Don't forget, on top of the funeral, you have to pay for costs associated with the send-off/wake, which SunLife states costs an average of £2,532, as well as professional fees to deal with legal matters such as probate and managing/administering the estate, equating to an average of £2,547. So all in all, the total cost of dying amounts to a huge £9,263.
A breakdown of funeral costs
So, why are funerals so expensive for people in the UK? It becomes clearer when you break down all the factors that contribute to the overall cost of a funeral, as there is so much that needs covering and, as they say, you get what you pay for.
Each occasion will differ, but funeral fees and the overall cost of the services will often include director fees, transportation costs, costs of the service, order sheets, limousines/cars, memorial, flowers, the wake venue and catering for guests at the wake, and burial or cremation costs.
While the wishes of the deceased within their Will usually determine whether they want to be cremated or buried, the cost of both can differ quite considerably. If you or a loved one isn't adamant that they want to be buried, it's worth considering the fact that cremations can cost a significant amount less (direct cremations are the most basic, cheapest type).
A list of burial costs
As you'll generally find, burials are more expensive than cremations. Despite being the more traditional method in a funeral, the cost of burials will only increase as more people continue to opt for cremations, as less services will become available.
The costs associated with a burial naturally differ slightly to those of a cremation, and they often include the cost of:
Directors fees
Fees to cover the minister, officiant or celebrant conducting the service
The burial plot, or exclusive right of burial (EROB) and the interment
Fees regarding the headstone
Burial plot maintenance and monument fees (and insurance if required)
Fees to cover the place of worship (including churches, chapels etc.)
Memorial costs
Burial fees themselves cost around £1,960 on average in the UK, which is an expensive element alone, without taking the price of the above into consideration as well.
SunLife's 2020 research shows that the average total cost of a burial is now £5,033.
How much is a coffin in the UK?
The cost of a coffin is usually covered by the director fees, as are many other parts of a funeral, which is why funeral directors can seem so expensive.
Coffins can cost as little as £100 but can also reach £10,000 for the most expensive ones, but it really depends on the amount of money you're able to spend and the type of coffin or casket opted for.
While we all want the best send-off for our loved ones, it's important to remember that there will often be a budget, whether it's what the individual has left behind, or what the family members can afford to pay themselves.
This cost, of course, does not apply to those who wish to be cremated, which is part of the reason why it is often the more affordable option for many people in the UK.
How much does a cremation cost in the UK?
The cost of a cremation depends on various factors, as listed below, but they are typically less expensive than burials.
Cremation fees are just £159 on average in the UK, which is far more affordable than the £1,960 you'd pay in burial fees.
The cremation as a whole costs an average of £3,885 in the UK, which is over a thousand pounds cheaper than the equivalent burial.
In addition to cremation fees, the other costs associated include local cremation costs, doctor fees (for cremation certificates and documents), fees for the minister or officiant to conduct the service, scattering ashes in the Garden of Remembrance, interment of ashes (the equivalent of a burial plot to keep the ashes in a permanent location), and memorial costs.
There are some mutual fees, but as a whole, the average cost of a cremation is more affordable than that of a burial in the UK.
What about a direct cremation? What is it and how much does it cost?
A direct cremation is the most basic type of cremation that you can have, which is why it works out to be the cheapest option. Generally, depending on who you choose to carry this out for you, a direct cremation includes:
The company taking the deceased person into their care and prepare them appropriately for the cremation
The cost of cremation fees without any additional charges
A basic style coffin
A vehicle to take the deceased person to the crematorium
Any doctors' fees
Something to contain the ashes
By having a direct cremation, you won't, however, be able to do the following:
See the deceased person in the chapel of rest
Select the date or time of the cremation
Decide which crematorium will be used
Go to the funeral yourself (nobody is allowed to attend a direct cremation, which is why this type of cremation has been popular during the Covid-19 pandemic and while restrictions have been in place)
As a direct cremation is less personal, this may not be what you want or what you would want for the deceased person, so you'll have to consider all options and ensure you have a funeral plan in place while you are still alive if possible.
Funeral director fees
Funeral director fees usually make up most of the cost of a funeral because directors often include many different elements within their price.
It can differ with each company and depends on which package you opt for, but the fee usually covers most of the following:
Liaising before and after the funeral
Mortuary facilities
Preparing the deceased for the service
Chapel of rest facilities
Making sure legalities are dealt with (documents and so on)
Providing a coffin or casket
Hearse and drivers
Wreaths
Optional funeral costs
Optional costs associated with funerals usually include the price of special requests and any additional features that are added to a basic funeral.
They are costs that you don't necessarily need, but might want. For example, catering, limousine hire, flowers, order sheets and service cards.
But remember that some of these costs could even be included within the price of some funeral directors, so be sure to check the content of their available packages first.
Read more: The rising cost of funerals in the UK
How much is the cheapest funeral?
The price of funerals starts from around £1,500 if you choose to have a 'direct cremation', where the body is cremated without a funeral service beforehand and people are not allowed to attend. The average cost of a direct cremation is £1,554 in the UK according to SunLife.
Although it may not be the most extravagant celebration of a person's life, a direct cremation is the most affordable option available at the moment and therefore the cheapest way to have a funeral.
But before you opt for a direct cremation, it's worth considering whether you could get any sort of financial help from existing insurance policies or even the government.
Read our guide to learn how life cover can help cover the cost of your funeral: Types of Life Insurance
Need help with funeral costs?
It can be difficult to pay for a funeral if your loved one passed away suddenly without any plans in place, such as a legally-binding Will, and without a trust fund or insurance policy to provide the money to pay for it, but there are ways to get a more affordable service and you can get help with funeral costs.
If you have the time, you could arrange the funeral yourself, without paying in-full for a funeral director.
There's also a way to get funding from the government to help towards funeral services, but you must meet a specific criteria to qualify for the "social fund".
If you are eligible, the "social fund" will contribute towards certain services, such as burial fees, cremation fees (and the doctor's certificate), travel to attend or arrange the funeral, the cost of death certificates and other official documents, fees associated with moving the body (in the UK alone), and funeral director's fees, flowers or the coffin, but only up to £1000 worth.
If the deceased person had a funeral plan in place that they already paid for, you can also make a claim with the government to help cover anything that wasn't included in their plan, but you can only get up to £120.
There's certainly no shame in reaching out to the government for help, after all, the money is there to help for a reason. Don't hesitate to get in touch with the relevant authorities and find out whether you're entitled to a social fund or any sort of financial assistance.
Hopefully, this guide on the cost of funerals has given you a good insight into the average funeral cost in the UK and the level of organisation needed to give your loved one the send-off they, and you, intended.
For more information and advice regarding funeral and estate planning, be sure to check out our useful guides below.
Related guides
---