Applying for a mortgage
A complete beginner's guide
---
---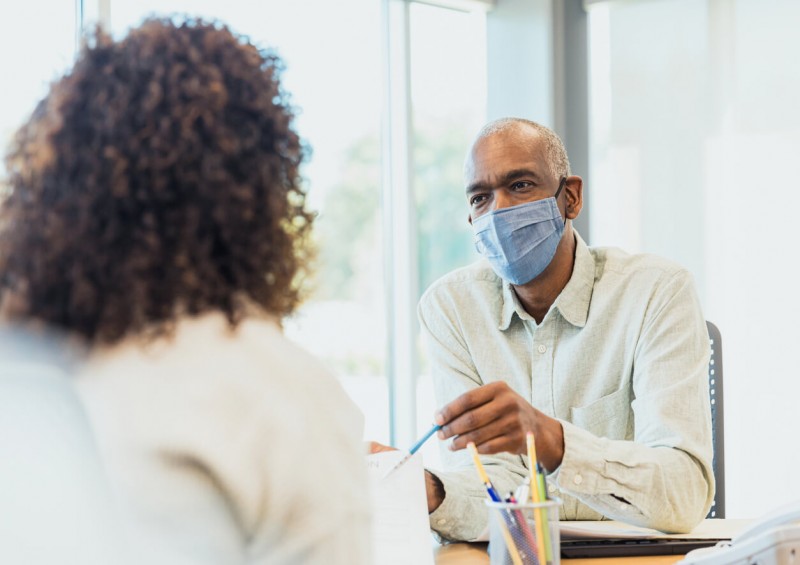 If you're looking for advice on the mortgage application process, or you're wondering about the mortgage eligibility factors for a first-time buyer mortgage, then you've come to the right place.
The requirements for a mortgage usually differ between different lenders and will be based on individual circumstances, but it is important to have a rough idea of what to expect when it comes to thinking about what mortgage lenders look for and how long it takes for a mortgage to get approved so that you're better prepared for the whole process.
In our guide to applying for a mortgage, we'll take you through everything you need to know about mortgage requirements, how long a mortgage approval takes, plus all the documents needed for a mortgage in the UK.
How does a mortgage work?
A mortgage is a type of loan that is taken out to buy a property or land. Usually, most mortgages run for 25 years, but it could be more or less time, depending on how quickly you're able to pay back the money that you borrowed.
Mortgages are a type of secured loan, in that they are "secured" against your home until the mortgage is paid off in full. The money that you borrow from the lender is called "capital" and the lender charges you interest on this until it's fully repaid. You can usually choose which type of mortgage you want, and you can choose between an interest-only mortgage or a repayment mortgage which involves paying part of the interest and capital each month.
In the event that you're unable to keep up with your mortgage repayments, your home may be repossessed, so it's vital that you repay every monthly payment in full and on time, and that you know you can afford to do this before applying.
How old do you have to be to get a mortgage?
You must be at least 18 years old to apply for a mortgage and your mortgage will usually need to end before you turn 80.
How to apply for a mortgage
Before you apply for a mortgage, you should first check your eligibility with the three credit reference agencies in the UK (TransUnion, Equifax and Experian) to order your credit report to check your credit rating and to see whether you'll likely meet the mortgage criteria to be accepted for a mortgage. You can do this all in one place with Checkmyfile.
The mortgage application process is usually done in two stages. The first stage usually involves finding out how much you can afford, and the type of mortgage that's best suited to you. You'll also have to think about how much deposit you want to put down and how much you can realistically afford.
The second stage is when your application process officially begins and the mortgage lender will carry out a full fact check in which they'll determine your full affordability rate and how well they think you'll be able to cope with repaying your mortgage in the long run, in the event of interest rates rising or other external financial factors affecting your ability to repay your mortgage.
How long does the mortgage application take?
How long a mortgage application takes varies between each individual and each lender, but it's usually anywhere between two and six weeks from starting your mortgage application process to being approved.
What is considered when applying for a mortgage?
In order to be accepted for a mortgage, you will most likely need a good credit score, so if you're thinking about applying for a mortgage and your credit rating isn't looking the best, you might want to look into how you can improve your credit score before applying.
You'll also be expected to know things such as the type of mortgage you want, how much money you plan on borrowing and for how long, the type of property you plan on buying and the ideal interest rate that you'd like to borrow at.
When applying for a mortgage, you will also have to provide the following to your mortgage lender:
Three to six months of your most recent bank statements
Utility bills
Proof of any benefits that you receive
Proof of identity such as your driving licence or passport
Your last three month's payslips
If you're self-employed, you will need to supply a statement of accounts from the last two to three years
Tax return form if you're self-employed
The above documents may differ between mortgage providers, and some lenders may require much more information and documents from you, whereas others may be pretty happy with basic documents and forms.
When applying for a mortgage, it's important to try and be as accurate as possible when providing information such as your salary. It sounds incredibly obvious, but you also need to remember to double-check your application and ensure that every detail is correct and there are no spelling mistakes in anything such as your name or address. It sounds ridiculous, but it does happen and it could prove to have a negative impact on your mortgage application process.
Can you get a mortgage without a job?
If you're unemployed, then it is possible to get a mortgage without a job, although it will prove to be much more difficult. If you're eligible for unemployment income, then you may be able to use this to qualify for a mortgage, but it's likely that very few lenders will be willing to give you a mortgage as you don't qualify for a full-time income.
If you don't currently have a job, but you want to get a mortgage, it might be worth seeking help from a certified mortgage advisor who can advise you on what to do and how to become more attractive to mortgage lenders without a job.
Am I eligible for a mortgage?
Eligibility for a mortgage depends on numerous factors, but providing that your credit score is in relatively good shape and the rest of your finances are in order, and you have a good deposit to put down on the house, you should be in a good position to be eligible for a mortgage.
Related guides
---