How Much Money is Spent at Christmas in the UK?
Christmas spending statistics that might surprise you.
---
---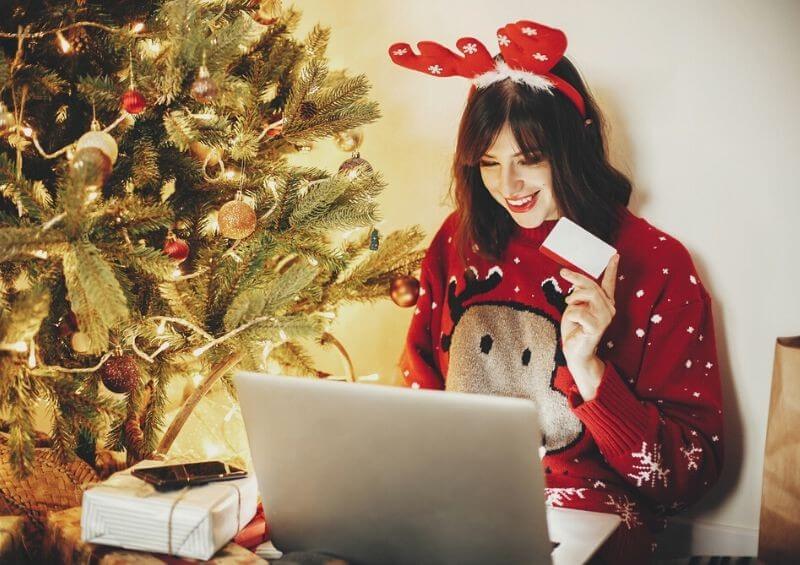 Average UK household spends an extra £500 every December

Brits spend over £19m on presents every Christmas

Around a billion Christmas cards are bought each year

Just under £5m is spent on nights out around Christmas time
Over the course of an average month, typical UK households will spend around £2,000 – but spending habits seem to change drastically in the run-up to Christmas.
In short, we spend a LOT more during the festive season, with many households spending at least an extra £500 during December in comparison to other months.
It was estimated that a whopping £20 billion was spent in the UK over the Christmas period last year, but what exactly are we spending all our money on? And how much will be spent across the country over the most joyful – yet expensive – time of the year?
Here's our quick guide to how much money is spent at Christmas time in the UK (not that we like to think about it!).
Average Christmas spending
The Bank of England has reported that, during the build-up to Christmas, the UK spends:
16% more on food

39% more on alcohol

43% more on clothing

56% more on toiletries

68% more on computers

85% more on books

116% more on music and DVDs
Most of our money is spent on going out, eating food, drinking alcohol, and – of course – buying gifts!
In a recent study conducted by Bobatoo, it was revealed that 2019 would see an estimated 48% increase in the number of shoppers spending more than £400 on things like food, drink and decorations – and that's without presents!
Read more: Christmas on a Budget: 10 Money Saving Tips
How much money is spent on Christmas gifts each year?
While many Christmas present trends come and go, some are timeless, like the Star Wars Millennium Falcon, which remains as popular now as it was over 30 years ago, or Lego, which survey results show is still one of the top toys in the UK despite being released back in 1932!
Despite people clearly looking to fund a lavish Christmas this year, it appears that there has been a decrease in the number of shoppers spending big on gifts for their significant other in 2019.
But how much is spent on Christmas presents every year in the UK and is there an amount that you should spend on your loved ones?
According to recent research, Brits accumulatively spend a total of over £19m on presents every year – that's before even considering the cost of quirky decorations and your Christmas turkey.
How much to spend on Christmas presents
Knowing how much to spend on Christmas presents for your parents, children and loved ones can be difficult, but it essentially comes down to a matter of how much your budget allows.
We'd all like to spend thousands upon thousands to give our family and friends the gifts they've always dreamed of, but the reality is that breaking the bank on Christmas presents will do you no good in the long-run.
Only spend an amount that you can afford – we're sure your relatives would be happy to receive one or two fewer gifts if it means that you stay out of debt! Planning ahead can make all the difference; figuring out who you're going to buy for and how much you're going to spend on them will help you stay on top of your budget and avoid over-spending.
You and your partner might even agree on a set spending limit, or you might find that more creative, handmade gifts will help you cut down on costs. However you do it, there are ways to enjoy Christmas on a budget.
See our survival guide to Christmas shopping on a budget for more information.
How much money is spent on Christmas cards each year?
The tradition of sending festive greetings to our loved ones has been maintained since the first Christmas card was sent over 170 years ago. Although it may not be a tradition as popular now as it has been, it's been reported that around a billion Christmas cards are still sold every year in the UK.
People still buy the majority of their Christmas cards at brick and mortar stores, but with the rise of personalised Christmas cards being created and ordered online, it seems that the tradition is here to stay (for a while, at least).
There was a time when people thought digital cards would take over, but thankfully, the sentiment of a good old fashioned Christmas card (made of actual card, rather than pixels) could not be matched and e-cards now appear to be a thing of the past.
Note: It's been estimated that around £50m per year is raised for good causes through charity Christmas card sales, so keep an eye out for them.
The rise of Christmas shopping online
The value of online shopping has more than doubled over the last few years, with online purchases now accounting for around £1 of every £6 spent in the UK.
Although brick and mortar sales still account for over 80% of purchases, online spending is increasing rapidly and consumers are now buying more online than ever before – of those who shop online, more than 60% use Amazon as their go-to site.
With promotional events such as Cyber Monday and even Black Friday providing even an even greater incentive to shop online in the build-up to Christmas, the number of UK consumers doing their Christmas shopping online will only continue to rise.
Why? Convenience, cheaper deals and considerably less effort, that's why!
More Christmas statistics from the UK
According to research carried out by OnePoll and reported on by the Independent:
Brits spend £4.9m on Christmas nights out each year

Over 154 million Christmas crackers are pulled (and just as many bad jokes are read)

308 million slices of turkey are eaten

6 billion miles are travelled to visit family and friends (that's a serious amount of petrol!)

Christmas songs are listened to over 460 million times
The average cost of Christmas for most families far exceeds any other time of the year, so making the most of our useful money-saving resources here at Compare UK Quotes is more important now than ever.
If you liked our guide to how much money is spent at Christmas in the UK, browse the articles below and be sure to Like our Facebook page for more up-to-date content.
Christmas on a Budget: 10 Money Saving Tips
Top 10 Christmas Gifts for Car Lovers
Survival Guide to Christmas Shopping
---