What Home Insurance Do I Need If I Rent?
---
---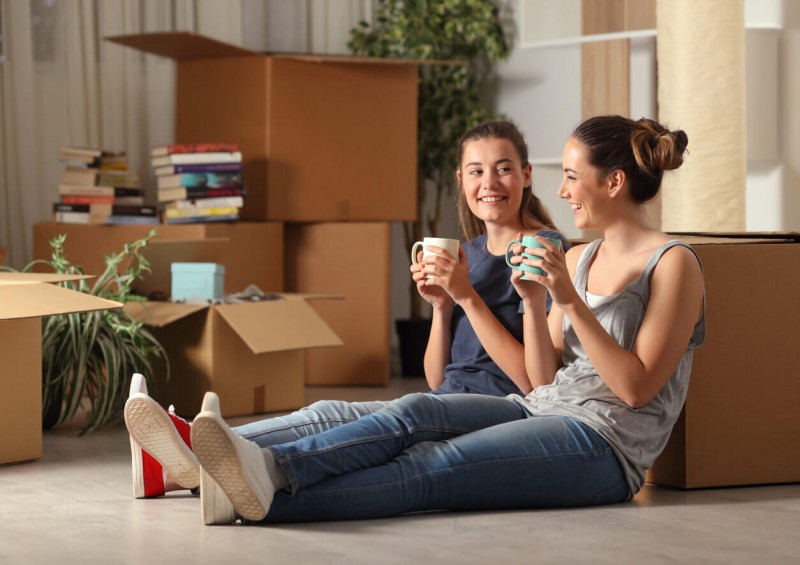 Many uninsured private tenants may be blissfully unaware that they could be financially liable for damage to fixtures and fittings at their rental property.
With private renting costs at an all-time high, a proposed hike in energy bills next year and the cost of living soaring, many UK Tenants are looking to save money wherever possible.
As a result, some tenants decide not to insure the contents of their property if they own nothing of great value or simply can't afford the monthly premiums.
According to Climate Just, over 60% of tenants in the social or private rental sectors have no contents cover for their personal possessions.
So, a question many Renters must ponder is, 'Do I need contents insurance as a Tenant?'
Below, we answer 5 questions that are frequently asked by tenants about the need for home contents insurance when renting a house, including:
What insurance do I need to rent a house?
There are two types of home insurance for a rental property for a tenant to choose from: contents insurance or tenants insurance.
Contents Insurance
A bog-standard home contents insurance policy covers you and any close family members living with you against loss, theft or damage (including damage caused by natural disasters, such as fires or floods) to the personal possessions inside your home.
Standard home insurance policies do not, however, cover you for loss, theft or damage to any of your personal possessions (or those belonging to resident family members) outside of your home.
Personal possessions are things that you use, enjoy, wear or carry, including:
Televisions
Mobile phones, tablets and laptops
Cameras, video recorders and equipment
Keys
Jewellery
Wallets, purses and handbags
Bicycles and sporting equipment
Musical equipment
Expensive ornaments and pictures
Personal possessions home contents insurance includes cover for any loss, theft or damage to your personal possessions outside of your home. This is an additional term that's often added on to a contents insurance policy, which you can pay for when taking out contents insurance.
In addition, 'accidental damage' to your personal possessions isn't included in many home contents policies as standard - like personal possession insurance, this is an extra provision that you must pay for.
If you do have accidental damage included in a standard home contents policy, you still won't be covered for accidental damage caused to the Landlord's fixtures and fittings (or a Landlord's furniture) in your rental property.
You might like: Spare Keys Could Invalidate Home Insurance
Tenants Insurance
A far safer and more comprehensive type of home contents insurance for renters is a policy known as tenants insurance.
Tenants insurance isn't a legal requirement, but some Landlords do specify that they require their renters to take out this type of insurance in the tenancy agreement. For this reason, it's always best to check your tenancy agreement to see whether this type of insurance is required by your landlord.
In fact, we highly recommend taking out a tailored type of tenancy insurance policy, even more so if the furniture is provided by the landlord and isn't owned by you.
As mentioned above, a bog-standard home contents policy does not cover you for damage caused to fixtures and fittings or furniture owned by the landlord. Therefore, if you damage an item of furniture or fixtures and fittings that belong to the landlord, he or she could make you pay for this damage.
If you refuse to pay or can't afford to, the landlord could deduct the cost of repair or replacement from your deposit upon termination of the tenancy.
What insurance do landlords need?
So, we know a tenant is responsible for insuring the contents within the rented property, but who pays building insurance - the landlord or tenant?
It is a landlord's responsibility and legal obligation to arrange and pay for buildings insurance; if you're a renter, you are solely responsible for arranging contents insurance.
Incidentally, a Landlord should check with their current insurer if any existing standard buildings insurance policies are still valid (assuming a landlord is renting a property out for the first time).
Additionally, if a property is mortgaged, as well as seeking a lender's approval to letting out a property, the landlord should also check with their lender what their insurance requirements are.
Most landlords usually take out niche landlord insurance to cover buildings insurance. This type of specialised cover usually has extra options to cover a landlord's contents at the property and can include 'property owner's liability insurance'.
However, a tenant cannot rely on a landlord taking out this additional cover and must take out appropriate tenant insurance to ensure they're fully covered against potential financial claims.
Other insurance options for Landlords include rent guarantee insurance and legal expenses insurance.
Will my landlord's insurance cover me?
No. As stated above, the landlord is only legally obliged to take out buildings insurance, not contents insurance.
Most standard landlord buildings insurance policies offer cover for structural damage to a building or damage caused to the building by a natural disaster, flood or a fire.
Although there are options for more extensive cover for damage caused to fixtures and fittings and furniture, a tenant can never assume that the landlord's insurance covers them. It doesn't.
Further, a landlord's insurance policy will never cover your own personal belongings (contents). It is your responsibility to insure your own personal possessions.
Can I get insurance for accidental damage?
Yes. A tenant can take out specialist tenants liability insurance which protects them against accidental damage costs.
If a tenant accidentally causes damage to the landlord's furniture, fixtures or fittings, this type of insurance offers additional protection that is not covered by a standard home contents insurance policy.
Landlord's furniture, fixtures and fittings can include:
Windows and doors
A fitted kitchen and integrated appliances
Bathroom fittings
Furniture provided by the landlord
Floor coverings
Standalone white goods
Light fittings
Boiler and heating system
If you accidentally cause damage to your landlord's furniture, fixtures or fittings, a tenant can be held financially liable for their replacement or repair.
Can a landlord deduct from your deposit for accidental damage?
Yes. If you cause accidental damage to fixtures and fittings (or the landlord's furniture) at your rental property, your landlord can request that money is deducted from your deposit when your tenancy ends.
Usually, a landlord or their agents will carry out an inspection of a property prior to you moving in. They will record (very often by video) the condition of fixtures and fittings (or furniture, if appropriate) and should provide you with a copy of this inventory before you move in.
At the end of the tenancy, the landlord/agent will then conduct a 'check out report' to check the condition of the landlord's fixtures & fittings and/or furniture after you have vacated the rental property.
If the landlord or its agent discovers damage to the landlord's property which they do not deem to fall under the remit of 'general wear and tear', then they will look to the tenant for compensation.
In some cases, the compensation sought from a tenant can exceed the deposit amount. This is why we highly recommend taking out tenant insurance for peace of mind and to avoid any nasty [and expensive] surprises when a tenancy ends.
---