Do You Need Life Insurance for a Mortgage?
A guide to the cover you need when buying a home.
---
---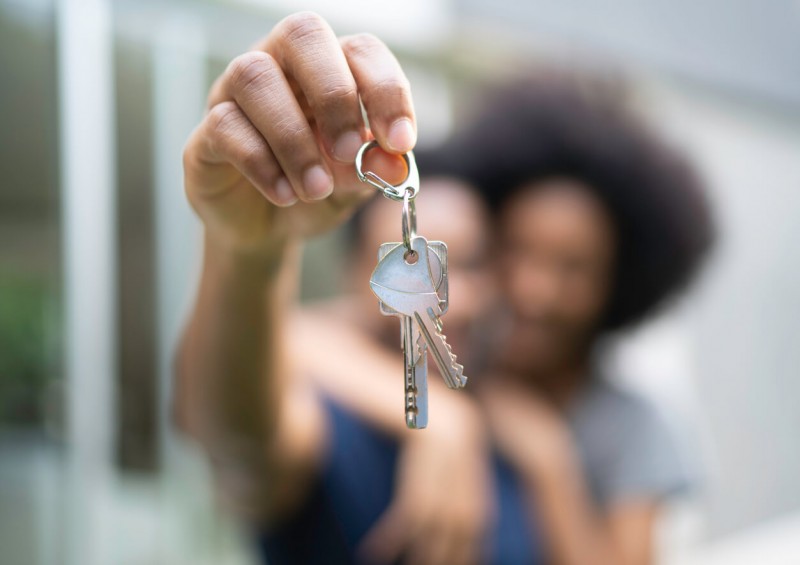 Despite being an exciting time in your life, buying your first home can be stressful and there are a lot of things to consider before you eventually move in.
One of the important parts of buying a home is setting up the right type of life insurance policy as a safety net for your loved ones to fall back on should the worst happen.
Here, we explain what types of insurance you need when taking out a mortgage, what might be the best life insurance policies for you, and where you can get cover.
In this guide:
What is life insurance for a mortgage?
Life insurance is a type of insurance policy that provides a pay-out to your chosen loved ones when you pass away. There are many different life insurance policies available for a variety of circumstances – for example, you can have life insurance to cover the cost of your funeral or a policy to ensure your dependants are able to cope financially without you.
Life insurance for mortgages is essentially the latter – it is a type of term life insurance policy that covers the outstanding balance on your mortgage when you pass away, so that your loved ones or family members aren't left to cover the debt themselves.
Do you need life insurance to get a mortgage in the UK?
It is not legally required or compulsory that you have life insurance when you take out a mortgage, but it is generally recommended and there are some lenders who will ask that you get one before you move in.
Can you get a mortgage without life insurance?
Contrary to popular belief, you can get a mortgage without life insurance in place, but it is compulsory with some lenders and most experts recommend that you have cover once you buy a home.
Why do I need life insurance for a mortgage?
Purchasing a property or a home is usually the most significant financial commitment you will ever make, with the average cost of a house in the UK being over £230,000 according to Statista.
Once you have paid the deposit on your home, which is usually anything from a minimum of 5%, you will then owe your mortgage lender the rest of the price and will need to make regular payments to pay it off (plus interest, depending on your mortgage deal).
The hope is that you will continue paying monthly instalments over the course of several years (usually between 25 and 30 years) until you have repaid the full balance, but what happens if you die before paying off the loan in-full? This depends on your circumstances, but the debt is likely to fall into the hands of your loved ones.
For example, if you and a partner have a joint mortgage and you pass away (without life insurance) before paying off the mortgage, the lender will usually look to your surviving partner to cover the full cost. Your partner will then be required to cover the remainder of the debt and could fall into financial hardship without your support.
Certain life insurance policies can prevent this from happening. If you pass away with an adequate term life insurance policy, it will provide a pay-out that covers the remainder of the mortgage debt, protecting your loved ones from financial difficulties and giving you peace of mind in knowing that they will be secure in the event of your death.
There is also a specific life insurance policy – critical illness cover – which can pay out the outstanding balance of your mortgage while you are still alive if you are diagnosed with a specified terminal condition.
Do I need mortgage insurance?
When you get a mortgage in the UK, it is likely that your mortgage lender will expect you to get buildings insurance . This is a type of home insurance policy that covers the property against damage to structural aspects, such as the roof, walls, and floors.
Homeowners also tend to get contents insurance to protect the items in their home, particularly those of high-value, but in most cases, people will opt for a combined buildings and contents insurance policy to ensure they're fully protected for all circumstances.
You do not need any sort of mortgage insurance, but as we have mentioned, most mortgage providers will require you to have a life insurance policy in place as a safety net to cover the cost of the mortgage if you were to pass away.
Those who already have a home: Do I need life insurance if I have a mortgage?
If you already have a mortgage, it is important to consider getting some sort of life insurance policy that covers the mortgage amount. This is because the cost of the mortgage may fall to your loved ones or cohabitants if you pass away, and they may not be able to handle that financial burden.
Types of mortgage life insurance
Each person's situation is different – for example, many people will live with their family, some will live with a partner, and others will live alone – and this has an impact on the type of insurance policy that you will need.
Single or joint life insurance
If you are getting a mortgage alone, then you should take out a single life insurance policy in order to cover your own life. Although you may not have a cohabitant, the outstanding debt may fall to your family, which could lead to unnecessary financial stress.
Those who are taking out a mortgage with a partner may want to consider a joint life insurance policy instead, as this will pay out if either partner should pass away.
Decreasing or level term insurance
With a repayment mortgage, the amount you owe will decrease as time goes on due to the monthly repayments you make. You will therefore not require as much insurance as time progresses, as the amount you owe will decrease on a monthly basis. In order to make sense of this, most experts recommend having a decreasing term life insurance policy alongside your mortgage, which (as the name suggests) provides less cover as time goes on and as your debt decreases.
The alternative, level term assurance, is often more expensive as the pay-out your loved ones will receive if you pass away stays the same throughout the policy's duration. This type of policy is more ideal for those who have an interest-only mortgage.
Which life insurance policy is best for you depends on your personal circumstances, so be sure to seek professional, tailored advice if you are struggling to make a decision.
Note: Whole of life insurance is usually not recommended if you simply want to cover the cost of your mortgage, as most people tend to set up a 'term' policy to last the same duration as their mortgage – for example, a 25-year decreasing term insurance policy to cover a 25-year mortgage.
Read more: Types of Life Insurance in the UK
Critical illness mortgage cover
Critical illness cover is a policy that can either be purchased as an optional extra to your standard life insurance or as a standalone policy. It pays you a tax-free lump sum if you are ever diagnosed with a critical illness listed within the policy's terms, usually including conditions such as stokes, certain types of cancers, and heart attacks.
Critical illness insurance can be particularly useful for people whose family would struggle to get by without their income, or people who would not be able to make mortgage repayments if they fell critically ill.
Mortgage life insurance cost
How much life insurance costs depends on the type of policy you have and any add-ons you choose (such as critical illness cover), the policy's value, your age, your medical history, your lifestyle, whether you smoke and so on.
Read more: The Average Cost of Life Insurance
To get a better idea of how much you will be required to pay, get a free life insurance quote today by tapping the button below:
Finding the best mortgage life insurance
You don't legally need life insurance when buying a house, but it is strongly recommended by most experts, as it ensures that your loved ones will not face debt worth hundreds of thousands of pounds upon your death.
Some mortgage providers will offer you life insurance when you take out a mortgage with them, but it's always worth shopping around first to find the right deal for you. To do so, compare life insurance quotes by tapping the button below:
Some of the best providers will also provide life insurance with a free gift, so it's worth considering these too, before committing to a policy.
Related guides:
---