Cheap Car Insurance for Over 60s
Retirement, a free bus pass, and cheap car insurance!
---
---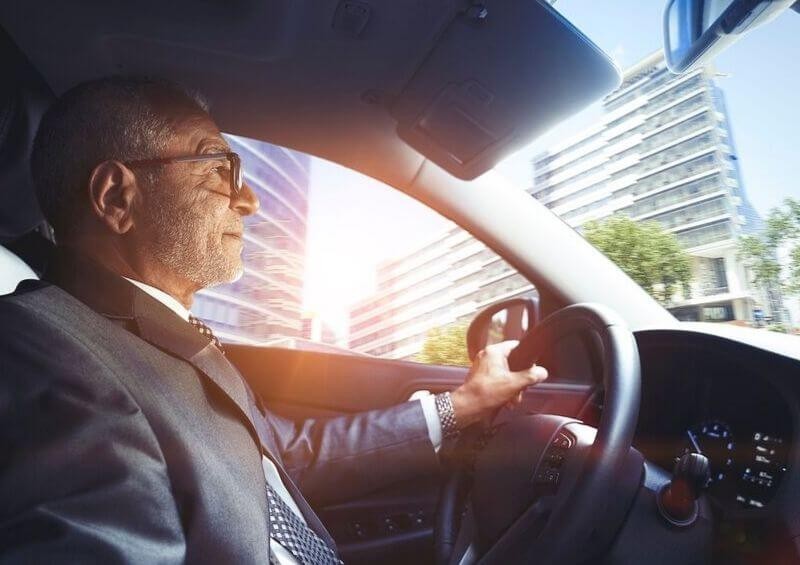 Now that you're into your 60s, you can look forward to retirement, a free bus pass, and of course, cheaper car insurance premiums!
The cost of your car insurance policy depends on your personal driving history and other individual factors, but statistics show that people over 60 pay less for their cover than almost all other age categories.
What is the average cost of car insurance for over 60s? Is it worth getting no-claims bonus (NCB) protection? And is there a maximum age to get cover? Read on to find out everything you need to know about over 60s car insurance in the UK.
Over 60s car insurance in the UK
There are three main types of car insurance policies available in the UK:
Fully comprehensive

Third party, fire and theft (TPFT)

Third party
Third party car insurance is the minimum legal requirement to be able to drive on UK roads, while fully comprehensive cover is the most extensive level of protection available to drivers; TPFT is somewhere in between.
Read more: Types of car insurance in the UK – Which Cover is Best?
Average cost of car insurance against over 60s cover
Under most circumstances, car insurance should be relatively cheap if you are over 60 years old. If you have built up a good no-claims bonus, then you should be even better off.
In April 2019, it was reported that the average cost of car insurance for all drivers was £736, while the average for those over 60 was just £279 – that's some difference!
This is probably due to the fact that insurers see those over 60 as less of a risk, as they are less likely to speed or get distracted while driving, according to experts. As always, car insurance providers justify their premium costs with statistics – as those aged between 60 and 69 are said to have less than half the crash rate of those aged 20 to 29 (according to Brake, the road safety charity).
If you are between 50 and 60 years of age, get your Age Co over 50s car insurance quote today.
When does car insurance go down in the UK?
Car insurance is notoriously expensive for new drivers aged between 17 and 25, but once you pass that initial age category, premiums begin to decrease quite rapidly.
The amount your premiums decrease by each year will become lower as you get older, but the best way to get cheap car insurance is by building a no-claims bonus, and as a 60+ year-old, yours could reduce the cost of your cover by up to 75%.
Cheap car insurance for over 60s UK
Cheap car cover for over 60s and over 65s is available from almost all well-renowned providers, but the most important thing to do while looking for insurance is to shop around and compare quotes online with websites like GoCompare, Confused.com or MoneySuperMarket.
Most providers will value the experience you have as a driver and see it as a positive, while others may see your age as a type of vulnerability – if they feel that your reactions and split-second decision-making skills may have deteriorated, for example.
Of course, in most cases, you will find that being over 60 results in cheaper premiums, but you must shop around to find the very best deal for you.
If you're a little more experienced, why not take a look at our guides to cover for those over 70 and over 80.
When you reach 60-years-old, comparing car insurance and shopping around several providers is as important as ever. To compare car insurance for over 60s and get started on your journey to cheaper premiums, tap the green button below!
No claims bonus protection for over 60s
As you are over 60-years-old, the chances are that you have built up an impressive no-claims bonus, as long as you haven't had to make a claim on the policy. Your NCB might even get you three-quarters off what your premium would otherwise be.
If you have built up your NCB over time, it becomes very significant and valuable to your car insurance premiums, so it's certainly worth considering no-claims bonus protection.
A no-claims bonus, or no-claims discount, protection policy means that a policyholder is able to make a claim on their car insurance without losing their bonus.
Without protection in place, losing your no claims bonus could be devastating and would almost certainly lead to a large increase in the cost of your car insurance.
Car insurance for retired people
Car insurance does not automatically decrease once a person retires, but the fact that you no longer need to commute, for example, could lead to cheaper premiums.
Again, it depends on the provider; it may take some work on your behalf to compare quotes to determine which insurance company is best for you as you reach 60 years old.
Do I have to inform my insurer when I retire?
Yes; once you retire, it's important that you let your insurance provider know as soon as possible, just as you would with any other change to your personal circumstances.
There's no reason why you wouldn't want to inform them either, because it could even benefit you in the long-run.
Is there a maximum age for car insurance?
Most car insurance providers include a maximum age within their policies, but when that is depends on the insurer, as there is no 'universal' age where coverage must come to an end.
Typically, the maximum age for car insurance is somewhere between 70 and 110, but some policies even offer cover with no maximum age whatsoever.
Read more: Is There an Age Limit for Driving in the UK?
Do I need specialist car insurance if I'm over 60?
By no means are you required to take out specialist car insurance once you reach 60 years old, but you may find that some specialist providers can offer better deals than general insurers.
The only way to find out which is better for your situation is by getting your own car insurance quotes with a hand-full of insurers and comparing the results.
The benefits of specialist over 60s car insurance:
Fixed premiums

No maximum age limit

Courtesy-car guarantees

Windscreen cover
Of course, your policy's conditions depend on the provider, but be sure to explore the possibility of taking out cover with a specialist company before you commit to basic insurance.
Best car insurance for over 60s
Remember that you shouldn't choose a policy based on its price alone – a cheap policy may be more affordable and beneficial in the short-term, but what if the reason it's so cheap is because it includes countless exceptions and exclusions?
The best policy for you will be affordable, but will also provide a sufficient level of cover if ever you need to make a claim.
Start the process of renewing your over 60s car insurance policy with Go Compare by tapping the link below to find out more!
Related articles:
Types of Car Insurance in the UK – Which Cover is Best?
A Complete Guide to Car Insurance
---