Is There an Age Limit for Driving in the UK?
And where to find the best car insurance for elderly drivers
---
---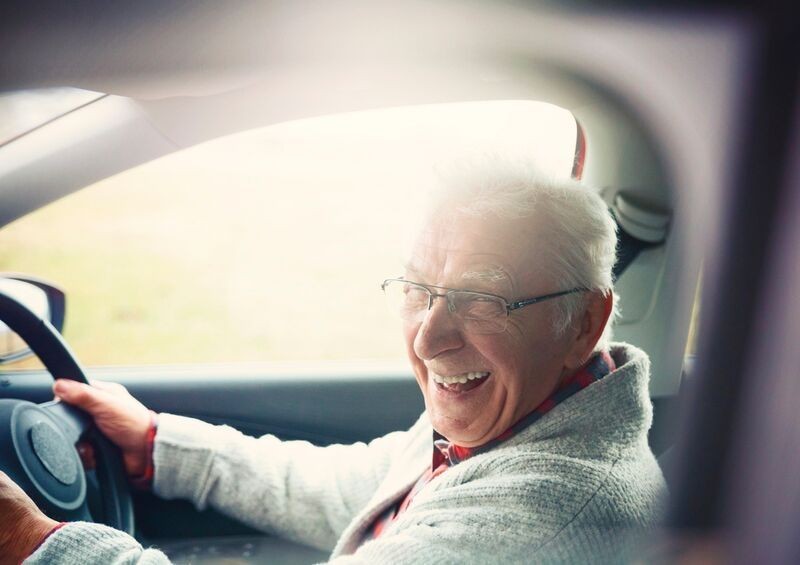 As life expectancy continues to rise in the UK, more and more people are beginning to drive well into their 70s, 80s, and beyond.
Driving over 90 years old, 80, or even 70, can be dangerous – but only if the individual has lost some of their cognitive ability, such as their reaction time or decision making skills, which can sometimes happen with age. Others, who are just as sharp at 70 as they were at 35, will argue that they are totally fine to drive and should be free to do so as they please.
Each case differs, but there are many questions that need answering: Is there an upper age limit to driving? At what age do you have to resit your driving test, if at all? How does car insurance work for older people? Compare UK Quotes has the answers!
Jump to:
What is the UK driving age limit? Is there one?
Over 70 driving licence restrictions
Do you have to take a driving test at 80?
Car insurance with no upper age limit
What age can you drive in the UK?
Let's start at the beginning.
In the UK, you are able to start learning to drive a car when you turn 17-years-old. There are some exceptions, including those who are able to drive at 16 if they are in receipt of the 'Higher Rate Mobility Component', but 17 is the most typical age to start driving.
Read more: Car Insurance for New Drivers
But what happens as you get older?
Is there a UK driving age limit?
More than four million people over the age of 70 hold a valid driver's licence in the UK, with that number expected to rise over the next few years.
There is no upper age limit for driving the UK, meaning that you could continue driving into your 100s!
Some car insurance providers will place an age limit on their policies, usually somewhere between 70 and 100 years old, but there are many that have no limit whatsoever.
The Driver and Vehicle Standards Agency (DVSA) will, however, request that you renew your driver's licence once you reach 70 years old. Once you renew, you are then required to re-apply for your licence every three years.
Read More: Car Insurance for Over 50s (Age Co Review)
Over 70 driving licence restrictions: Renewing your driver's licence
Drivers over 70 years old are required to renew, or re-apply for, their driver's licence every three years, but there is no mandatory 'test' or medical as such.
To renew your licence, you must complete a form to declare that you are still fit and able to drive in a safe manner. There are also some eyesight requirements, which basically mean that you must be able to read a vehicle registration plate from 20 metres away.
In technical terms, you need a visual acuity of at least decimal 0.5 measured on the Snellen scale, which can be tested by your optician for free on the NHS if you are aged over 60.
Renewing your driving licence is completely free.
Conditions to meet
As well as having adequate eyesight, you must also let the DVSA know if you have been diagnosed with certain health conditions.
These include:
Dementia and Alzheimer's

Diabetes

Syncope (frequent fainting)

Heart conditions

Epilepsy

Strokes
At what age do you have to resit your driving test? Do you have to take a driving test at 80?
No; there is no set age where you have to resit your driving test.
It is currently a largely self-regulated area, where the primary responsibility lies with the driver themselves or those closest to them (relatives, for example), who must use the organisations and resources on offer to improve their driving skills or ask for advice on when to stop driving.
Contrary to popular beliefs and common misconceptions, there is no compulsory 'old age driving test', but you can book an Experienced Driver Assessment if you are ever concerned about your ability to drive safely.
It is run by the Royal Society for the Prevention of Accidents and is not necessarily a 'test' as such, but a £35 assessment that will give you a report on your driving as well as advice on how you could improve your skills, any bad habits to avoid and how to drive more safely.
Self-regulation places a lot of the responsibility on drivers in the UK to assess themselves and decide whether or not they feel safe on the road, which is the only fair way of handling such an issue due to each individual case varying so much.
No upper age limit car insurance
The cost of car insurance is impacted greatly by the driver's age, with those under 25 typically paying the most, while more experienced drivers are rewarded with cheaper premiums.
But, despite car insurance premiums generally decreasing with age, there comes a point where they can start to rise once again. This comes when insurers feel that you may be a higher risk to cover as you become more susceptible to medical conditions and disabilities, which could affect your driving skills.
Go Compare recently reported that just over a third of comprehensive car insurance policies imposed a maximum age limit of 80 years old, meaning that many elderly drivers may struggle to get cover with certain companies.
Fear not, because at Go Compare, you are able to retrieve a variety of older drivers' insurance quotes to find the best deal for your specific situation. Simply tap the button below to get started!
Read more: Cheaper Car Insurance for Over 60s
Specialist car insurance for elderly drivers
Go Compare can provide you with a wide range of car insurance quotes, but if you are struggling to find a suitable deal for your (or your relative's) situation, it may be worth trying a specialist elderly car insurance provider such as:
Age Co (previously Age UK)

Saga

RIAS
As long as you are medically able and you feel safe, healthy, and fit to drive, then there should be nothing stopping you from maintaining your independence and staying on the road, irrespective of your age.
So, what over 70 driving licence restrictions are there? None! As long as you feel safe to drive, remain honest with your insurer and the DVSA about medical conditions, and renew your licence each year, you're free to drive for as long as you wish.
For more information on all-things car insurance, feel free to browse our range of articles here at Compare UK Quotes. We want what's best for you and will always point you in the direction of the cheapest, safest, and most trusted providers in the UK.
Related articles:
Cheap Car Insurance for Over 60s
The Best Car Insurance Companies in the UK
---