Drive Away Insurance
Temporary cover for new cars.
---
---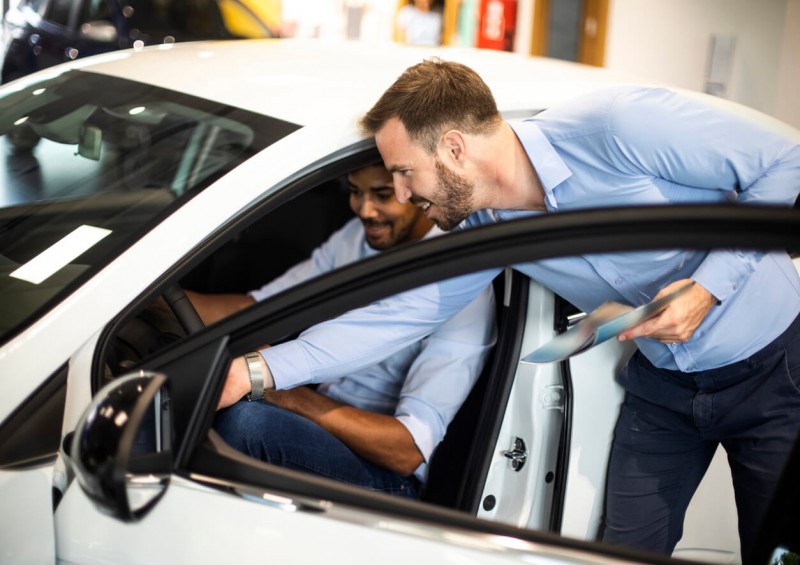 Getting a new car is an exciting venture and insurance isn't always at the forefront of your mind as you get ready to leave the dealership in your new wheels.
But can you drive a car without insurance if you just bought it? The short answer is no, but one of the best and most affordable ways to get short-term cover to protect you while driving home, before finding the right annual policy for you, is to take out drive away insurance.
What exactly is drive away car insurance? Where can you get a policy? And why should you consider getting it? Here, we explain everything you need to know about this unique type of short-term car insurance policy.
What is drive away insurance?
Drive away insurance is a type of temporary car insurance policy that provides policyholders with short-term cover to drive their new vehicle home from a dealership or private seller before they purchase annual insurance.
As annual car insurance can be such a significant lump-sum expense, it's important that you find the best deal for your personal situation. In order to do so, you must shop around and use comparison sites to get quotes from a variety of providers. This means that you need to put some time and effort into researching before purchasing cover, but you need to stay insured (as per UK law) in the meantime.
Temporary drive away insurance offers a solution to this issue, as it ensures that you remain legally protected while you look for the best car insurance deal for you.
What does drive away insurance cover in the UK?
What your temporary or drive away insurance policy covers depends on what type of policy you purchase.
Some will offer fully comprehensive insurance, while others will only provide third-party only (TPO) or third party, fire and theft (TPFT) cover.
If you don't have a policy in place that provides at least TPO cover – the minimum legal requirement to drive on UK roads – you could face serious consequences as you are driving an uninsured vehicle.
How long your cover lasts also varies, with many drive away insurance policies lasting hours, others lasting days and some even lasting weeks.
Most policyholders tend to opt for hourly or daily cover, but it depends on how long you personally need to research and set up your ideal annual insurance policy. While temporary cover is useful for short-term periods, most people looking for cover for longer than a month will be better off financially if they purchase annual car insurance.
Getting free or cheap drive away insurance from a dealer
Some dealerships will offer you temporary drive away insurance when you purchase your car with them; this can be convenient, but be sure to check with a few different providers before accepting their offer, as you may be able to get a better deal elsewhere.
Some generous dealerships may even offer you free drive away insurance as part of your new car deal. This is a handy perk, but always check the policy before accepting it as some may include certain exclusions or loopholes that could leave you in a tricky situation if you happen to get into an accident on your way home.
You will find that free drive away car insurance is usually offered by specialist dealers, such as Nissan, Ford and Vauxhall. For example, all Nissan customers are currently eligible to receive Free To Go Cover – their own drive away insurance policy – for free.
How much does drive away insurance cost?
If you aren't offered free cover from your dealership, you will need to get some sort of temporary cover from a specialist provider - unless you've already done your research and purchased an annual policy.
The cost of drive away insurance varies considerably between providers, so be sure to shop around and get quotes from as many companies as possible. While you may want to rush to get your car home, don't simply accept the first quote that you're offered, as it might be overpriced and you could waste hundreds of pounds.
Saving money on fines for being uninsured on your new car
If you don't have an insurance policy in place when you drive your new vehicle home and are caught – or worse, have an accident – while you are uninsured, you could be fined thousands of pounds, lose your licence, and may even face prosecution.
This means that drive away insurance could save you a considerable amount of money and distress should things go wrong, so whether it's offered to you for free or you have to pay a small premium, it's certainly a policy worth getting.
Whether you get one-day drive away insurance, seven-day cover or an even longer policy, it also gives you some valuable time to compare quotes for your annual policy, which could end up saving you hundreds of pounds in premiums in the long-run.
Getting temporary insurance at Compare UK Quotes
If you're waiting for your annual car insurance policy to begin or you simply haven't been able to find the right deal yet, drive away insurance allows you to take your new vehicle home safely, without facing the dire consequences that come with being uninsured on UK roads.
Here at Compare UK Quotes, we provide a range of useful guides and articles to help you understand temporary car insurance and find the most affordable quote for your personal situation – whether you're a learner driver, a new driver, or an experienced driver looking for standard short-term cover.
Get your quote today with us at Compare UK Quotes, or check out our related guides for more information on temporary cover:
---