A guide to getting a good credit score at 18
---
---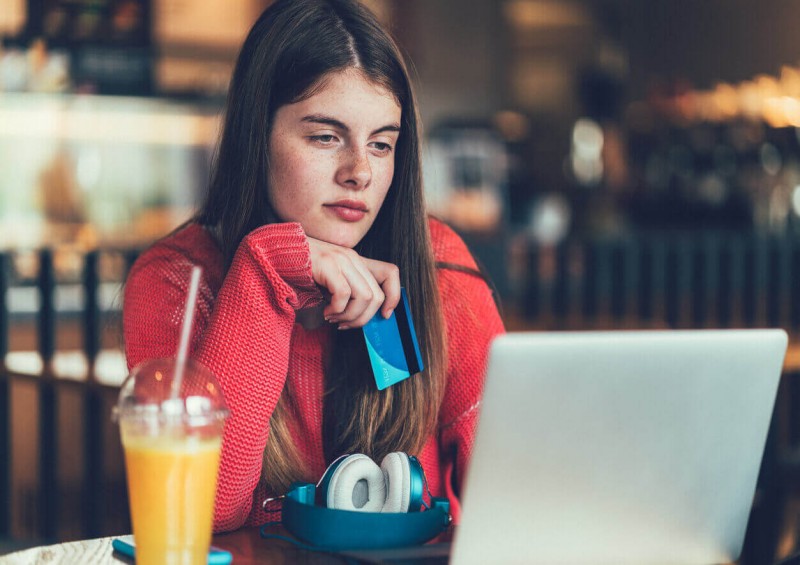 If you've just turned 18, you may be starting to think about becoming more financially responsible and you may even be thinking about applying for a mortgage or taking out a car loan to finance your first car.
However, with no credit score and no credit history, this can prove to be quite a difficult task, so you'll need to start looking into ways that you can build your credit score from scratch and build your credit rating in order to be in a better financial position.
In our guide on how to build a credit score in the UK, we explain how to open a bank account without a credit check and how you can use a credit card to build credit.
What is a credit score?
In the UK, your credit score is an indication of how much of a credit risk you are to lenders. Generally, the higher your credit score, the less risk you pose to potential lenders when it comes to lending you money.
Why do I need a credit score?
There are several reasons why you should have a credit score. Not only does it help to determine how eligible you are to borrow money from lenders, how much you're able to borrow and what kind of interest rate you can expect to be charged, but having a good credit score is also imperative when it comes to things like getting a mortgage to buy a house or another type of loan.
You might like: 14 reasons why your credit score is important
Do you have a credit score at 18 years old?
In the UK, you have to be 18-years-old to start applying for credit, so this is usually when your credit score starts to come into effect.
However, as you won't have had much experience building credit before you turn 18, this is the time when you might start looking for a first-time credit card (known as a credit builder card) in order to start building up your credit score.
What is a good credit score for an 18-year-old?
It's very important to start building your credit file from a young age as the "older" your credit history, the better your credit file and credit score will be. Therefore, when you turn 18 and you can start applying for credit, you must first ensure that your credit score is in good shape.
It's hard to gauge what is classed as a good credit score for an 18-year-old as most people won't just magically have a score when they turn 18. You'll need to work on building your credit score first before you can even acknowledge what a 'good' score is.
Check your score now with Checkmyfile, a multi-agency credit-checking site that gives you your score and a detailed report based on data provided by all UK credit reference agencies. Sign up to a free 30-day trial by tapping the button below - you'll be charged £14.99 per month after the free trial, but you can easily cancel your subscription anytime.
How can an 18-year-old raise their credit score?
If you're looking to start building a credit history, there are several simple things you can do to start building credit from a young age.
1. Set up some direct debits
Setting up a direct debit in order to pay bills such as household utilities or your phone contact, can help you to start building your credit history when you turn 18. Doing this proves to potential future lenders that you're able to commit to making regular payments each month, and you may even benefit from a discount from the business for paying via direct debit.
2. Don't miss payments
Missing payments will go against you when it comes to your credit score, so it's imperative that you endeavour to always make your payments on time to avoid being penalised. And remember that if you do miss a payment and your score drops, it'll take you a long time to build it back up again.
3. Open and manage a bank account
Proving that you're responsible by managing a bank account is another way that you can raise your credit score at 18-years-old as it'll show that you're able to look after your money responsibly.
It's important to ensure that you always have enough money in your account to make any necessary payments, and avoid going into your overdraft where possible.
4. Get on the electoral register
Registering on the electoral roll enables lenders to verify your identity and it also shows that you have a permanent address which shows stability and consistency.
5. Consider getting a credit-builder product (that doesn't require a credit check)
Credit-building products such as a credit-builder credit card or a credit builder loan can also help you to build your credit score from a young age.
However, if you don't have a credit score at all, you may need to look for a credit-building product that doesn't require a credit check when you apply.
Credit-builder cards are usually designed for people with little or no credit history, so if you can find a suitable credit building card at 18, you should be able to start your credit score journey. However, it's important to note that these kinds of credit cards often come with high-interest rates, so it's crucial that you're able to make your repayments on time and in full, as well as the added interest.
How long does it take to build credit from scratch?
Unfortunately, building a credit score does take time and there's not really a fast-track method that you can use to instantly build your score. The longer that you commit to using credit and doing so responsibly, the more that your credit score will continue to improve.
Building credit for the first time usually takes between three to six months for you to start to see an improvement in your score, although this will differ with each individual. If you're consistent with your credit management and you consistently prove that you're able to pay bills on time and make regular repayments, then your credit score should slowly start to build in time.
The best credit cards for 18-year-olds
Finding the best credit cards for 18-year-olds can help you to start building your credit score as these can be a good way to get a good credit score at 18. Take a look at some of the best credit card providers for 18-year-olds below.
Aqua Classic Credit Card

Capital One Platinum Card

HSBC Student Credit Card Visa

NatWest Student Credit Card Mastercard

TSB Student Credit Card
If you'd like to know what your credit score currently is, we recommend using Checkmyfile as it will provide you with a multi-agency credit report and score. It uses all of the main UK credit reference agencies to give you a more detailed report (every lender or credit card provider will use one or more of these to check your credit history) and comes with a free 30-day trial period when signing up:
(£14.99 per month after free trial - cancel anytime)
Alternatively, read our useful articles to find out more about how your credit rating works.
Related guides
---