What credit score do you need to buy a car?
---
---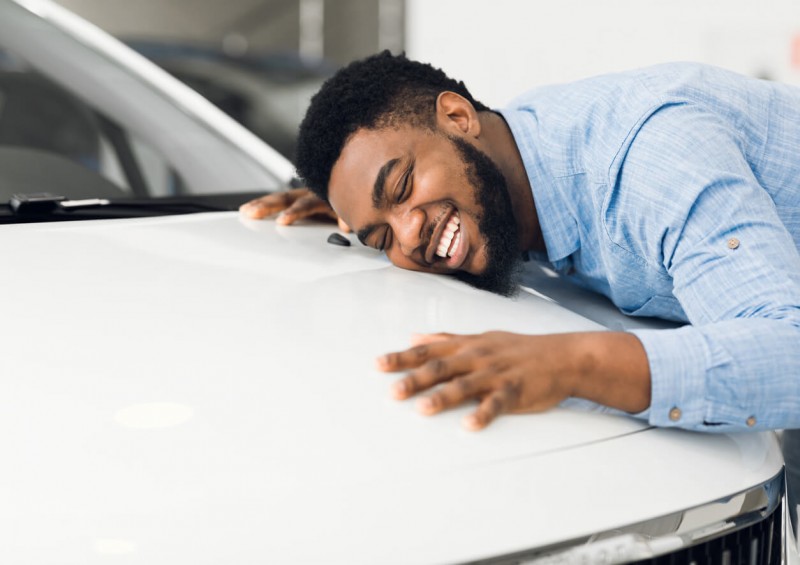 So you've decided to treat yourself to a new car and need to borrow money to do so, but do you need a good credit score to finance a brand-new car and do you know how much you'll be able to borrow or whether or not you'll be accepted?
Here's everything we cover in this guide to help you learn more about how your credit score can have an impact on getting a new car:
Do you need a decent credit score to buy a car?
Whilst a good credit score will improve your chances of getting a car loan and will mean you are usually offered better deals, it's not the be-all and end-all when it comes to car finance.
In fact, you could have an excellent credit score for car finance but be refused credit for another reason.
There is no set credit score you need to have in order to buy a car on finance. Lenders will, of course, check your rating when you initially apply for a loan but will additionally undertake many other checks when assessing your application.
Other factors lenders may check include:
To help improve your chances of a loan, before you buy a car, you should make sure your finances are in order. You should check your credit score and history with the UK's four main credit reference agencies, Equifax, Experian, TransUnion and Crediva.
You can check your credit files for free with all four agencies at the same time by using Checkmyfile. Sign up to Checkmyfile now for a 30-day FREE trial - after the free trial, a monthly charge of £14.99 will apply, but you can easily cancel anytime.
If you discover you have a low credit score, then you should look at ways to improve your credit score immediately before applying for finance.
Can you use your credit card to buy a new car?
Yes, you can purchase a car using a credit card, but this is a rare choice of credit when buying a car. It can certainly be a good option if you keep costs low by using a 0% APR credit card, but you should make sure you can afford to pay off the complete balance before interest starts being added after the 0% interest-free period.
More common and popular forms of car finance are:
Personal Loan (PL)
Taking out a personal loan, usually from a bank or building society, is perhaps the most flexible way to finance purchasing a car.
The pros and cons of a personal loan
Pros

Cons

You own the car straight away
You can shop around
You can set the term of the loan
You don't have to pay a deposit
You don't have to worry about a final balance payment

Can be more expensive (APR rate)
Better deals (lower rates) are usually only offered to people with good credit scores
Can take longer to arrange than other types of finance
Car's depreciation in value is costly
Hire purchase (HP)
One of the most popular methods of financing a car is by getting a hire purchase agreement. If you finance buying a car in this way, it means you will have to pay a deposit (typically 10%) and then make fixed monthly payments.
The pros and Cons of HP
Pros

Cons

Can be arranged directly with a dealer
Fixed monthly payments
Once you've paid off 50%, there's a chance you could return the car and have to pay nothing more

You do not own the car straight away
If you miss several payments, the car can be repossessed
Can cost more than a personal loan
Personal Contract Purchase (PCP)
Very similar to Hire Purchase, a PCP agreement means that you pay a deposit and payments for a fixed term. However, a PCP gives you more choices when the loan comes to an end as you can choose to buy the car by paying a lump sum, exchange it for another model or simply return the car and leave empty-handed.
The pros and cons of PCP
Pros

Cons

Can get a better [newer] car for your money than by other finance methods
You can own the vehicle at the end of the term by making a balloon payment

Can be repossessed if you default on payments
You do not own the vehicle until the end of agreement when you pay a lump sum. If you choose not to do this, you never own the vehicle
Conditional Sale (CS)
Similar to HP and PCP but with a Conditional Sale Agreement, you'll own the car outright at the end of the agreement term without having to pay an additional payment.
The pros and cons of CS
Pros

Cons

Easy to arrange
Own the car at the end for no extra fee
The flexibility of loan term
CS allows you to buy a car with bad credit

Do not own the car until the end of the term
Usually more expensive than other forms of car finance
Need permission from the lender to modify or sell car
The car gets repossessed for non-payment
Personal Contract Hire (PCH)
Personal Contract Hire (also known as personal leasing) means you will never own your car, even at the end of the agreement.
You have to pay a deposit, which is typically the amount of three months' payments in total, and then continue to pay a fixed monthly fee for the remainder of the term.
The pros and Cons of PCH
Pros

Cons

Costs less than HP or PCP
Can regularly change your car
Some deals allow you to include the cost of services in monthly payments
Car depreciation is not an issue

You'll never actually own the car
If you default on payments, you'll lose the car
Extra charge for excess mileage
Early termination fees
Is buying a car a good way to build up your credit rating?
Yes, if you fund the purchase of a car by borrowing money and ensure you always pay your loan repayments (or leasing payments) on time and in full then this will enhance your credit rating and increase your eligibility for other loans and credit cards.
If you have a bad credit history and want to borrow money to buy a vehicle, then your best bet is a Conditional Sale Agreement.
Note: If you apply for a car loan and are unsuccessful, a hard credit check is usually noted on your credit file and too many hard credit checks in quick succession can severely damage your credit score. If you apply for a loan and a hard check is made on your credit file, then you should wait around 3 months before applying for another loan. If lenders check your credit file(s) and see that you have unsuccessfully applied for more than one loan prior to your application with them, they will think you're high risk and will refuse your application.
How much money can I borrow to buy a car?
How much you can borrow to purchase a vehicle depends on:
Before using this car finance calculator, you will first need to check what your credit rating is. Because your credit rating can vary between agencies and different lenders use different credit reference agencies, it's best to check your score with all four.
You then need to input your credit rating, how much you want to borrow and the term length and click on the "apply now" button.
Using this method to check your eligibility and how much you can borrow will not impact on your credit score as only a soft search will be made. A soft search (unlike a hard search) means that other lenders will not be able to see you've applied for a loan; only you can see soft credit checks on your file(s).
Sign up to a 30-day free trial with Checkmyfile today and get a detailed credit report - £14.99 will apply after the free trial, but you can easily cancel your subscription anytime:
Related guides
---