The Cheapest Way to Heat a Garage in the UK
---
---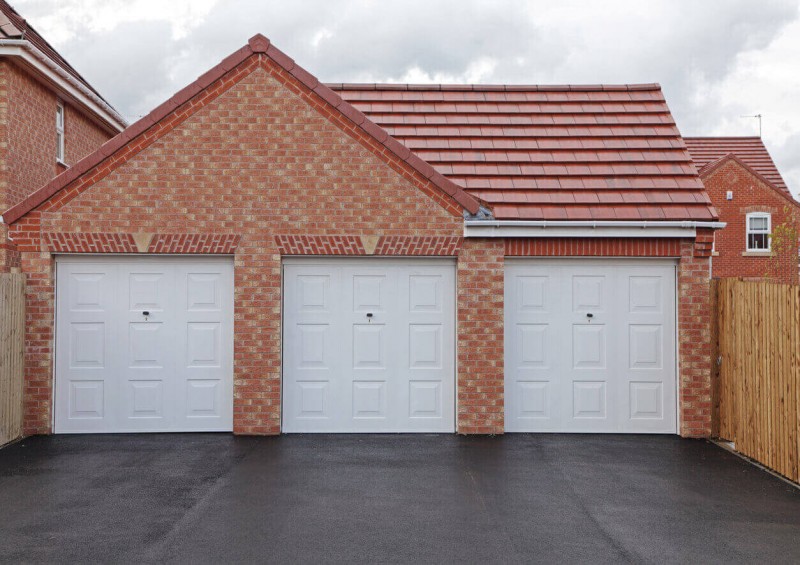 Heating a garage cheaply in the winter in the UK is a really good idea as it can help keep your house warmer, prevent black mould, stop electrical items from perishing, metal tools from rusting and much more!
If you park your car in a heated garage, we don't need to tell you that getting into your car on a freezing cold day will be much more pleasant and you'll avoid the arduous job of de-icing your car. If you have an electric car, did you know that the cold can sap your car's battery and affect your EV's performance?
Something else to consider is that loss or damage caused by frost is not usually covered by your home buildings insurance, contents insurance or even your accidental damage insurance policies, so if you store and use household electrical appliances in your garage like a tumble drier or freezer, insulating and/or heating your garage is a must.
Before we get on to the best way to heat a garage, the first thing you need to consider is how to insulate a garage cheaply. Below, we explain some cheap insulation ideas to avoid losing heat and help you save money on your energy bills.
Garage insulation
Of course, most garages are very draughty and extremely cold, with little to no insulation. Therefore, if you intend to heat your garage, the first thing you should do is insulate it; preferably as cheaply as possible.
Fill in gaps and cracks
First, use a foam sealant around any gaps around windows and fill in all gaps and cracks using epoxy, polyurethane or polyurea fillers to prevent water intrusion. You might also want to consider using shrink film on any window(s) for further insulation.
Insulate your garage door
Next, you should insulate your garage door. There are a few different materials you can use to insulate a garage door cheaply; heat-reflective foil and foam boards are usually the most popular choices.
If you search for 'garage door insulation kits' on the internet, you'll see there are lots of cheap options. It's worth checking, however, if the insulation material you're buying has a built-in vapour barrier to avoid condensation.
To finish the job off, install a draft excluder to the bottom of your garage door.
NOTE: When buying insulation products like reflective foil, fibreglass or mineral wool insulation, you should check out it's 'U-value' to see how effective the product is. The lower the U-value, the more insulation protection a product offers. To accurately work out what a product's U-value is, try using a free online U-value calculator. Additionally, if you plan on installing insulation yourself, always wear protective clothing.
Insulate your garage ceiling
If you have the budget or are a DIY enthusiast, in addition to insulating your garage door, you can save on further heat loss by insulating your ceiling. As is commonly known, heat rises, and so insulating your garage ceiling will have a huge impact on heat loss and consequently, heating costs.
The cheapest, easiest and quickest way to insulate your garage ceiling is by using fiberglass or mineral wool insulation, like most UK householders insulate their lofts with.
Insulate your garage walls
If you want to go the whole hog and completely insulate your garage, then you could insulate your garage walls as well. This is particularly beneficial to homeowners who have a garage attached to their house where lots of heat can escape from the garage, although insulating walls is not as cheap or straightforward as insulating a garage door.
How you approach insulating your garage walls depends on how your garage was constructed.
If you have a double-skin wall (i.e. bricks and breezeblocks with a gap in between) then cavity wall insulation is your best option but, of course, it's not cheap, as it's usually a professional, non-DIY job.
However, if you have a single skin wall (just breezeblocks) then you could fit a timber frame to the walls and fill the space with an insulation slab, which is a solid slab form of the same type of insulation you use in loft spaces.
To finish the job off, install drywall panels, plywood sheets, or oriented strand board on top of your insulation wool boards.
NOTE: When you insulate and heat your garage, ventilation should also be addressed to avoid condensation and the possible arrival of the dreaded black mould. Also, check for leaks in the roof and be sure to use a polyaspartic garage floor coating helps avoid excess condensation too.
Now you know how to insulate your garage, we'll now advise you on the best way to heat a garage in winter cheaply and help you decide which heater to choose for your particular circumstances.
Garage heating
If you're looking for cost-effective garage heating ideas, then you've come to the right place! Read on for our recommendations on how to efficiently heat your garage or workshop.
Gas heater vs electric heaters: Which is more cost-efficient?
So let's kick off with a brief summary of the pros and cons of gas and electric heaters.
The advantages of gas heaters
Reliable
Higher heat output
Affordable running costs
Provides warmer air than electric heating
Environmentally-friendly
The disadvantages of gas heaters
More expensive to buy and install (if you connect to a household gas supply)
Needs ventilation
Needs maintenance and servicing
If a problem with the heating element arises
Carbon monoxide is released when using natural gas
The advantages of electric heaters
Cheaper to buy than gas
Easy to install (as most garages have an electricity supply and plug sockets)
No flumes needed
No pipework required
They are deemed safer than fuel-fired water heaters
The disadvantages of electric heaters
More expensive to run than gas heaters (in the long-run)
Not as powerful as gas heaters - so they give off less heat
Despite gas heaters being one of the more cost-efficient ways to heat a garage in the long-term, if you haven't got a huge budget for the initial costly installation (including connection to your mains gas supply), the most economical and safest garage heater of choice is typically an electric one.
To save on heating costs, you could buy and install an economical plug-and-go electric heater. Should you wish to use the garage in the winter as a workshop, you should choose the more powerful heaters (with a higher wattage).
There's a huge variety of plug-and-go electric garage heaters for you to choose from to heat your garage including:
Convection heater
Infrared heating
Oil-filled radiator
Oil-free radiator
Halogen Heater
Fan Heater
If you wish to leave a heater turned on overnight, modern infrared heaters or electric radiators are your safest option. For safety reasons, you need to make sure you buy your heater from a reputable seller.
Standalone electric heaters should also have safety features like tip-over and overheat protection, automatic shut-off/timer and a thermostat. Make sure the heater has an EU health and safety 'CE mark' and always install a smoke alarm in your garage. If possible, try to fix the heater to a wall.
For instant heat, portable gas heaters are a cheap heating option but these should never be left unattended when in use. In fact, using any heater with a naked flame is so risky, their use is not usually covered by your home insurance policy.
The following table gives you an approximate average purchase price and running costs for the most popular and cost-effective standalone electric heaters, according to their output (wattage).
Portable heater price and running cost comparison
As you will see from the above table, an infrared heater is the clear winner for cheap running costs. And if you want to leave an infrared heater on 24/7, then as long as it has the safety features mentioned above, you can.
If you have a double, exceptionally large garage, you may wish to opt for an electrical heater that is more powerful than the electric heaters mentioned above. For example, you could opt for a 3KW+ industrial electric space heater, which can cost around 42p per hour to run. This is a fan heater and cannot, therefore, be left unattended, so is not suitable for 24/7 heating and is too costly to run for long periods of time.
Should you have the budget to pay for the installation and cost of installing a main gas heater in your garage, then the running costs will be much cheaper and this, of course, is a cheaper option in the long run.
Briefly, the following are other (usually more costly), garage heating options you may wish to consider when and if your budget allows:
Ceiling mounted garage heater
Solar-powered heater
In-floor heating
Ductless heating & cooling unit
Forced air heater
Gas space heater
Fire up combustion space heater
Radiant heating underfloor or wall panel system
Conclusion - The best ways to heat your garage
To sum up, before you heat a garage, you should at least insulate the garage door, add a draft excluder and fill in any major holes or gaps in the brickwork or around a window.
If you have a couple of thousand pounds to spare, consider getting a gas heater installed and connecting it to your mains gas supply for long-term cost-saving benefits. Other equally cost-efficient heating systems (but with an expensive initial outlay for installation) are radiant underfloor or wall panel heating.
If you want the garage heated 24/7 but can't afford to spend much on a heater, opt for an infrared heater or an electric radiator and have it wall mounted if possible.
If you do not intend to use your garage as a workshop and simply want to take the chill out of the air, then an infrared heater is your cheapest option for running costs.
If you decide to use a naked flame heater, check that your home insurance policy covers the use of this type of heater should it cause a fire or damage to your property. Most don't!
Related guides
---