Over 50s Life Insurance Explained
All you need to know about getting covered
---
---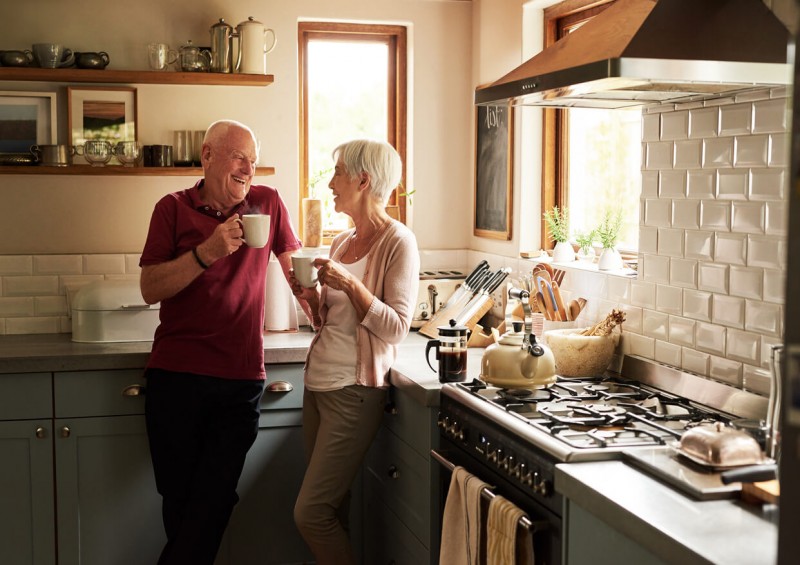 Unlike standard life insurance policies, with over 50s life cover, no medical examination is required and no medical questions are asked during your application, which simplifies what can be a laborious and uncomfortable process.
If you're 50-years-old or older and are thinking about taking out life insurance, read on to find out all you need to know about over 50s life cover and decide whether this type of policy is right for you or the best way to put money aside for your loved ones and/or funeral.
What is the best life insurance for someone aged 50 or over?
The best life insurance for someone over 50 is a type of whole of life cover that has been designed specifically for those aged over 50. Taking out this type of age-specific life insurance means that because of your age, you will not be asked to have a medical examination or asked any awkward medical questions other than whether or not you smoke.
The plus side of this type of life insurance is that your policy is guaranteed to pay out whatever age you die and whether or not you had an existing health condition at the time of taking the policy out, but whether that payout is worthwhile is questionable.
You should seek over 50 life insurance policies where a policy provider doesn't require you to pay premiums after the age of 90; some policy providers require payments until you die. If you live to a ripe old age, you could lose out on thousands of pounds as a policy will usually be worth much less than what you've paid into it. Not only that, if you miss one payment, the policy can end abruptly so all that you will have paid will be lost forever.
To find the best deals, search on over 50s life insurance comparison sites online, compare quotes and closely scrutinise what cover you get for your money.
Before committing, you should do some calculations to compare how the payout value compares to the premiums you'll potentially be paying for over the next 20+ years and at what age you'll start paying more for the policy than the payout is worth. To avoid a huge deficit, we strongly recommend looking at index-linked policies but these do cost more money.
If you're not sure and would like professional advice, we highly recommend speaking to a Life Insurance Broker to speak to an advisor who can find the best cover suited to you and your situation and the most affordable policy depending on your budget and the amount of cover you'd like.
How much life insurance should a 50 year old have?
Life insurance for over 50s typically provides cover from between £1,000 and £25,000, but how much life insurance a 50-year-old should have or can get depends on:
Age
The older you are, the higher your premiums will be, perhaps limiting the amount of cover you can afford to pay for.
Dependants
If you had children later on in life or they still rely heavily on the bank of mum or dad, or if you have anyone that relies on you financially, then you may need more cover than is usual for the average 50-year-old.
Debts
If you have debts or it's still some time before you're able to completely pay off your mortgage, again, this will increase your need for more cover.
Smoking
Despite not having a medical or answering medical questions for over 50s cover, you will still be asked if you smoke and if you do (and if you have smoked even one cigarette in the last 12 months), your premiums will be much higher, meaning you may have to opt for less cover to make your premiums affordable. It is highly important that you do not lie about this (or anything else), because if you do, it is likely to result in a refused payout when the time comes.
Financial circumstances
If you still have a mortgage or other financial burdens and/or dependants that heavily rely on your income, you may not be able to afford the ultimate cover provided by these policies. Bear in mind that when you retire, you must still be able to afford the premiums as if you stop paying, your cover will end abruptly and no premiums will be refunded.
How does over 50s life insurance work?
Over 50s life insurance will pay a guaranteed lump sum to your loved ones at whatever age you die and your premium should always stay the same, unless you have an index-linked over 50s policy. However, if you stop paying your premiums, your cover will end.
This insurance is not a 'funeral plan' and unless you take out extensive cover, it can very often not cover the full cost of your funeral. Bear in mind what the cost of a funeral could be in 25 plus years' time compared to now.
Unlike standard whole of life insurance policies, over 50s does not have a cash value so you cannot cash it in or use it as collateral for a loan. Also, if you cancel your insurance or stop paying your premiums, no money will be refunded or paid to you whatsoever.
Life cover is not immediate and should you die within a year from the start date of a policy then your beneficiaries will only receive reimbursement of the premiums you have paid up to the date of your death. However, if you die from an accident during the first year this restriction does not apply and your beneficiaries will receive the full payout on your policy.
Is over 50s insurance worth it?
If you have no means of paying for your funeral (i.e. no property or savings) and want to ensure your family have the money to pay for your funeral or any other expenses after you pass away, then taking out this type of insurance can be beneficial.
BUT, you need to read the small print of this type of policy and check that you do not have to pay premiums for the rest of your life (most allow you to stop paying at the age of 90) and that the payout will be enough to cover the cost of a funeral in the future.
The average cost of a funeral in the UK is approximately£4,000 to £5,000, so if you take out a low amount of cover, inflation could decimate your payout, meaning your policy will not cover the cost of your funeral in the future. Ideally, you should try to ensure you take out an inflation-linked policy if you can afford to.
If you do opt for this type of insurance, you should set up a direct debit payment as if you miss one payment, you could void your policy and lose all the money you have paid up to that point.
Be very wary when comparing quotes. AXA Sun Life, Liverpool Victoria and Sainsbury's are all insurance providers who have been hauled over the coals for misleading consumers in the past. Very often, many over 50s policies that you have to pay monthly premiums for your entire life end up being worth much less than the amount you have paid and many do not cover the full cost of a funeral.
So, if you're required to pay into a policy for your whole entire life and live long enough to receive a telegram from the queen, the amount you pay usually far exceeds the death benefit paid to your beneficiaries.
Again, if you're unsure, get in touch with a reputable life insurance broker for professional advice.
Are over 50s life insurance policies with free gifts worth it?
In our opinion no, not really, especially if it's the sort of policy that requires you to pay premiums until the day you die, however old you may be.
Most so-called 'free gifts' are offered by insurers to try and entice your custom and are about as valuable as monopoly money if you end up paying £10,000 for a policy worth £5,000!
For example, British Seniors over 50s life insurance offers a free £100 voucher and a free 'will kit' worth £100 as a reward for taking out a British Seniors life insurance policy. Albeit a better value free gift than some insurers offer, their 'free cover' only applies after the age of 95 whereas many of the other top insurers offer 'free cover' from the age of 90. (Free cover means you are no longer required to pay monthly premiums for your policy).
In addition, to be eligible for these 'free gifts' you have to pay at least six months' worth of premiums which makes the term 'free gift' appear paradoxical.
So to conclude, life insurance policies with free gifts are not always worth it but this depends on your age and what type of policy you're getting. What's much more important than a free gift is taking out a policy that you don't have to pay premiums for the rest of your life, that is index-linked, you can afford to pay indefinitely and that will cover the cost of your funeral.
Related guides
---