Getting the Cheapest Moped and Scooter Insurance
---
---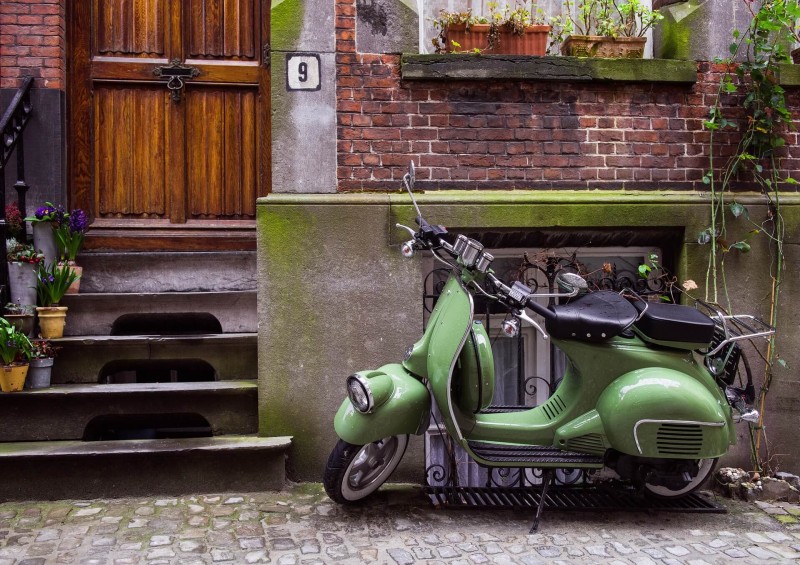 As fuel costs continue to rise and with roads becoming increasingly congested, many UK road-users are turning to mopeds and scooters as the most convenient way to get from A to B.
Their small 50cc (or 125cc) engine means that mopeds keep fuel bills low, while also minimising air pollution with a low CO2 emission.
Parking is a breeze thanks to their compact nature and it is legal to ride from 16-years-old, making them the perfect introduction to driving at a young age.
Scooters and mopeds have become a fitting and affordable option for a variety of people since their rise in the 1960s, whether they are used to beat the traffic on the morning commute or to travel to and from school, college or university.
As with cars, scooter insurance is a legal requirement if you want to use the vehicle on the road and needs to be put in place. Here, we will explain how to get the cheapest moped insurance in the UK and the best types of policies for you.
Moped driving requirements in the UK
Do you need insurance for a moped in the UK? The simple answer is yes.
Every vehicle must be insured, whether it is used every day or just gathering dust in a garage - unless it has been officially declared 'off the road' by obtaining a SORN (Statutory Off Road Notice) from the DVLA.
Anyone that doesn't comply with this regulation could be hit by a hefty £1,000 fine, a court prosecution, a clamped vehicle or even worse in some extreme cases. See our full guide to the consequences of NOT having insurance for more information.
People in the UK can legally ride scooters and mopeds (under 50cc) from the age of 16, but before jumping on your moped and heading off to work or study, there are some essentials to complete.
You must undertake CBT (Compulsory Basic Training) prior to riding any 50cc scooter or moped in the UK and your vehicle must be registered with the DVLA. The DVLA registration is usually already done for you, but be sure to check the documents when you first purchase your moped.
You also need tax for your moped just like any other motor vehicle, but this can cost as little as £20 per year if the engine size is under 150cc.
Types of moped insurance policies
As with most vehicles, there is a range of insurance policies to choose from that generally depend on your personal requirements and the level of cover that you require.
The three levels of cover are:
Third party only moped insurance: This is the most basic and often the cheapest level of insurance, which basically covers the cost payable to a third party should you be involved in an accident. It is a basic policy so none of your own costs are covered, including the cost of vehicle repairs or replacements.
Third party, fire and theft moped insurance: This cover provides you with the same level of protection as the third party only policy, with additional cover for your own car should it be stolen or involved in a fire.
Fully comprehensive moped cover: This is the highest level of cover which covers the costs of any damage done to your vehicle, as well as any claims made by a third party against you.
Bear in mind that fully comprehensive policies often include optional extras, so for a more adequate and cheaper moped insurance policy, make sure you remove any additional protection that you don't require. See our guide to motor insurance extras to find out more about the optional add-ons that might be worth considering, including personal injury, breakdown cover, and key cover.
It is important that you pay for the right cover for your personal situation and one that will benefit you most in the long-run.
Don't always go for the cheapest policy, as this may include some exclusions that will leave you using your own money to pay out if the cover is not sufficient enough to protect you against the costs you incur.
Reading through long-winded insurance policy contracts can be tedious, but it's important that you know what you're paying for and you get a level of cover that protects you against all relevant eventualities. It might, therefore, be worth getting your cover through an insurance broker for some guidance, but it goes without saying that you should always read through the terms of your policy before signing on the dotted line.
Moped and scooter insurance: Is there a difference?
Generally, there is a slight difference between a moped and a scooter – especially when it comes to insurance.
Mopeds have a small engine size of 50cc or less and can reach a top speed of 45mph, whereas a scooter's engine can be up to 150cc.
Scooters can therefore go considerably faster than mopeds, and are generally more expensive to insure as they pose a slightly higher risk.
Which is best for you depends on your personal situation. For instance, if you travel short distances and are happy to deal with the slower speed, you could save money on insurance by choosing a moped with a small engine over a more powerful scooter.
It's worth noting, though, that many websites will use 'moped' and 'scooter' interchangeably, so what's more important is that you make it clear what size engine your vehicle has, as that will be one of the most important factors in determining the cost of your cover.
Moped insurance cost
How much is insurance for a moped in the UK? Well, the average cost in 2017 was £279 per year, based on the best quotes between January and April 2017. This is relatively low-cost for a motor insurance policy considering many of those who drive scooters and mopeds are under the age of 18, which is only one of the vehicle's many benefits.
Moped insurance prices can vary and it is often difficult to gauge an accurate estimation as it depends on your needs and particular situation. However, it is well-known that moped insurance policies are often considerably cheaper than the equivalent cover for most other types of vehicles.
The fact that moped and scooter insurance is cheap makes it an affordable choice for young drivers especially, who are often required to pay a significantly higher amount for car insurance before building up a No Claims Bonus (NCB).
Cheap moped cover is available through many of the best insurance providers in the UK, so don't go for the first quote you see. Shop around and use some price comparison websites to get a good idea of the price you should be paying for your cover.
How to get cheap moped insurance
In order to pay less for your insurance, there are a few things that you could do.
Fit security devices. Fit your vehicle with a security chain or a dash cam – most providers are happy to offer a discount if your moped or scooter has an approved security device fitted.
Change where you park. Park in a locked garage, safely away from the threat of thieves – insurance providers will acknowledge this as a safety precaution and are likely to reward you with a cheaper premium.
Increase your voluntary excess (the amount that you will pay if you make a claim). Be sure only to increase this to an amount that you can afford, as you may need to pay out should you be involved in an incident.
Get a moped and scooter insurance quote today
You can get a moped insurance quote online today without any hassle. Some of the best moped cover providers include the likes of Hastings Direct Motorcycle Insurance, LV=, and Aviva, but remember to get quotes from as many specialist providers as possible before committing to a policy.
Compare UK Quotes offers expert advice regarding all types of motor insurance - from standard car insurance and temporary car cover, to classic car insurance and policies for the unemployed.
Simply browse our website for more information on all-things insurance and money-saving, and follow our social media pages to stay in the loop.
---