How Do Job Titles Affect Car Insurance Policies?
The best and worst jobs for car insurance.
---
---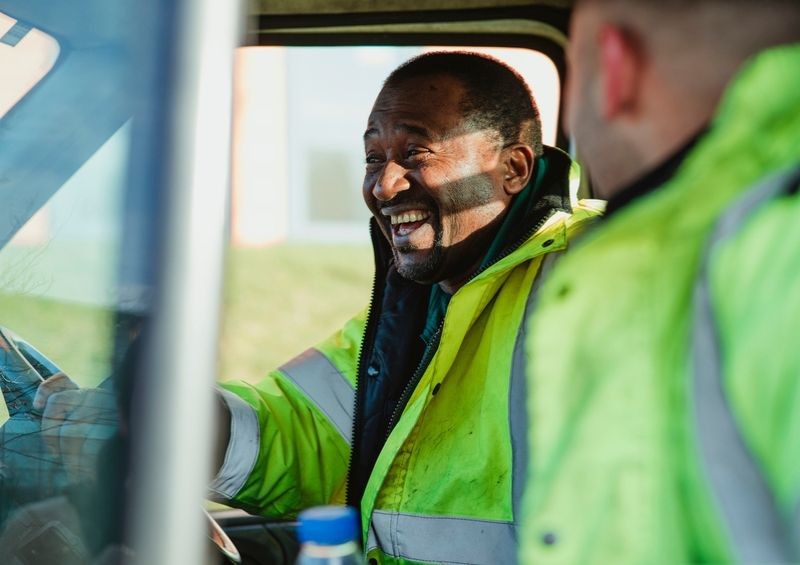 A person's occupation is one of many factors that car insurance providers take into account when calculating the cost of premiums, with recent research suggesting that it could have more of an impact than most drivers previously thought.
So, what are the best occupations for cheap car insurance and what jobs could lead to more expensive cover? Our guide provides you with all you need to know, including a car insurance occupation list outlining the best and worst jobs for cover.
We'll also explain how you could legally tweak your job title for cheaper car insurance!
In this guide:
How are car insurance and job titles connected?
Occupations for cheap car insurance
The worst jobs for car insurance
How to use your job title to get cheaper car insurance
Do car insurance companies check employment in the UK?
Car insurance companies often ask you to state your employment status and your job title when you make an application for cover.
While it may not seem like a major factor in calculating your premiums, it's possible that the cost of your policy could be affected by the information you provide.
Some occupations could lead to cheaper premiums, while others could make them more expensive, so it's important to experiment with different job titles if your role can legitimately fit several job descriptions.
How is car insurance calculated in relation to job titles?
Car insurance companies will look at how you describe your job and how you do your job (if you drive regularly for work purposes or if you store expensive equipment in your vehicle) when calculating the cost of your cover.
They will also consider the amount of commuting you do on average, which can also affect the cost of premiums you pay.
It's important to remember that – whether you think it's fair or not – insurance providers set their premium prices based on statistics relating to previous incidents (rather than any sort of prejudice or presumptions), which is currently the most accurate way to do so.
Read more: How is Car Insurance Calculated?
What are the best jobs for car insurance? | Occupations for cheap car insurance
Traditionally, nurses have been among the cheapest occupations to insure, but it also seems that many other public sector jobs appear in – or around – the top ten cheapest job titles for car insurance.
This includes the likes of magistrates, head teachers, and school crossing wardens (otherwise known as lollypop men and ladies), who typically have a lower average car insurance cost than most other occupations.
The cheapest job title for car insurance
The cheapest occupation for car insurance, in most cases, is a retiree.
Retired drivers are typically offered the cheapest car insurance on average, because they are considered less of a risk having built up many years of experience on the road, a strong no-claims bonus, and because they are less likely to do as much mileage now that they do not need to commute or travel for work purposes.
Car insurance job title list: 5 occupations for cheap car insurance
Some of the cheapest jobs for car insurance include:
Below is an infographic displaying the best job titles for car insurance in the UK...
Car insurance for retired drivers
The retirement age in the UK is currently 65-years-old, and you probably know by now that car insurance for over 50s is often cheaper than cover for other age groups. Retirees tend to be aged 50 or over, so this naturally leads to cheaper premiums.
This is because retirees are generally more experienced drivers, but it's also likely that they do not need to commute to work or travel for business purposes, which reduces their premiums further.
Get a quote for retired driver's car insurance here or learn more about insurance for more experienced motorists in our guides to cover for 60 and 70-year-olds.
Car insurance for nurses
Data from previous car insurance claims suggests that nurses are less likely to make a claim on their policy than people in almost all other professions. This has inevitably led to nurses being seen as lower risk drivers, which, in-turn, results in cheaper premiums.
Many car insurance companies will also offer cheap deals to NHS staff, so it's worth shopping around for exclusive discounts before you commit to a policy.
If you're a nurse or healthcare professional looking for car insurance, get your car insurance quote here:
Motor insurance for secretaries
Secretaries, medical secretaries, legal secretaries and personal assistants were all listed within the top 10 cheapest jobs for car insurance in the UK according to This is Money.
The reason for this is up for interpretation, but it certainly seems that those in a secretarial role are more likely to get affordable cover in comparison to people with many other job titles.
If you are a secretary and you are looking for affordable cover, compare quotes here to see how much you could save:
Car insurance for police officers
Car insurance for police officers is generally cheaper than cover for a large proportion of occupations, because similarly to nurses and retirees, the insurance claims data shows that they make fewer claims on their personal car insurance policy than most other motorists.
According to insurance comparison site Quotezone, this may be down to the fact that police officers "spend each day upholding the law" and are therefore "more likely to obey the rules of the road", or perhaps simply because they spend so much time driving their patrol vehicles.
Get a quote for car insurance for police officers here:
Coastguards' car insurance
This is Money also listed coastguards as one of the cheapest jobs to insure in the UK, and some car insurance companies will offer exclusive discounts to coast guards as they are part of the emergency services.
There is also a specific scheme known as the Blue Light Card scheme, where those who work in the emergency services and armed forces are entitled to various deals, including car insurance in some instances.
Get a car insurance quote with us here at Compare UK Quotes and find the cheapest policy for you within minutes:
The most expensive jobs for car insurance
It might be quite difficult to get your head around the logic behind the most expensive jobs for car insurance, because the list seems, well, random.
Recent research found that the most expensive jobs for car insurance included fruit pickers, labourers, waiters and painters, while professional footballers and other sportspeople are also faced with high premiums.
Pro footballers have become notorious for their high-profile car accidents and have therefore been punished with higher insurance costs, but it's more than likely that a week of their salary would cover a year's worth of cover. So, in relation to how much they earn, their insurance price is probably not too damaging.
Car insurance for unemployed drivers is also usually more expensive than the UK's average, as illustrated by the BBC's study which found that unemployed drivers pay around 30% more than others for cover. Paying higher premiums at a time when they're least likely to be able to afford it hardly seems fair, but again, prices are based on facts and figures from previous years and incidents.
Car insurance occupation list: 5 jobs that could lead to higher car insurance costs
Some of the jobs that could lead to more expensive premiums include:
Fruit picker

Labourer

Waiter

Racing driver

Professional Footballer
Below is an infographic displaying some of the most expensive job titles for car insurance in the UK: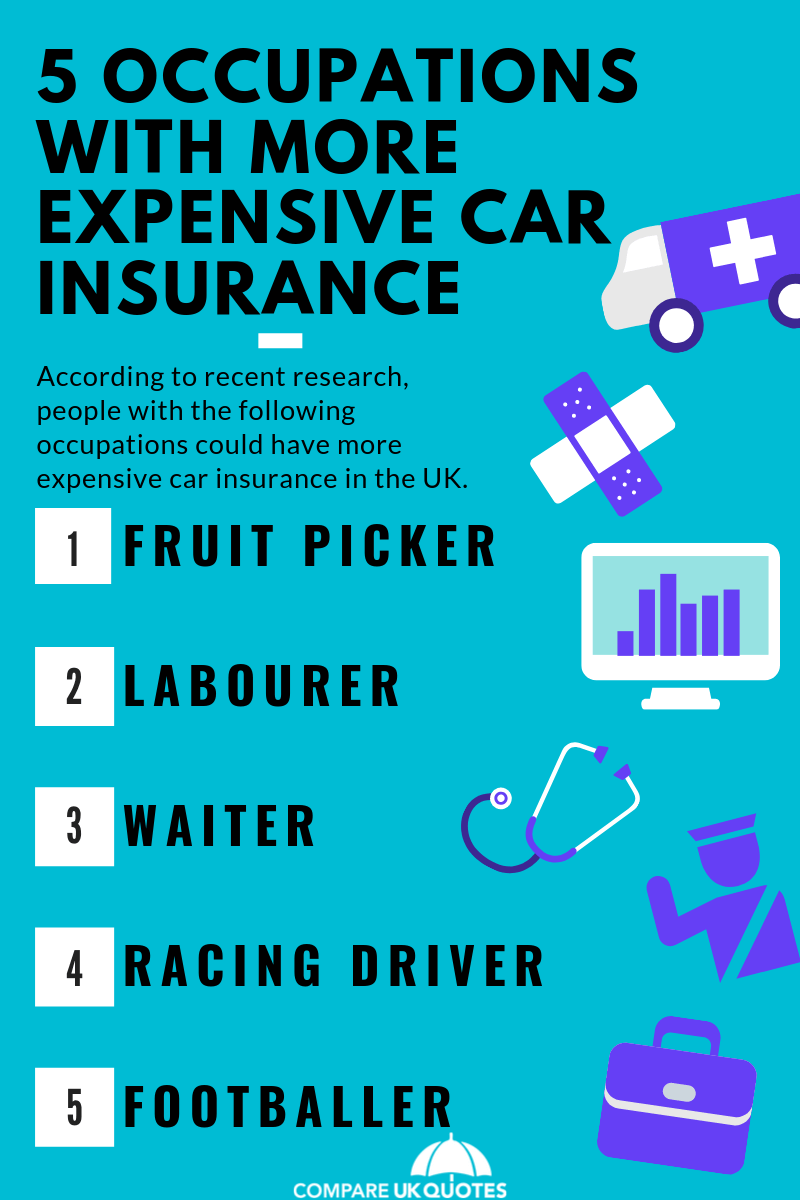 Can you do anything to get cheaper car insurance?
No one expects you to change your job just to get cheaper car insurance – don't do that – but there are some things that you can do to increase your chances of getting a better deal.
When entering your details for a car insurance quote, try tweaking your job title slightly if your occupation has more than one label. You might be pleasantly surprised with a more favourable premium rate, but remember to remain truthful – lying about your occupation could invalidate your insurance.
As long as you tell the truth, there's no reason why you shouldn't try describing your job slightly differently by tweaking certain terms to get a better car insurance deal.
For instance, putting your job title down as an 'illustrator', rather than an 'artist' would be fine, but claiming that you are a nurse when in reality you are a racing car driver? Not fine. It's actually considered a form of fraud and your insurance will almost certainly be void in the event of a claim.
Read more: Telling Lies When Applying for Car Insurance - The Outcome
According to Money Saving Expert's car job title comparison tool, if you pay an average of £500 for your usual cover, putting your job title as an 'illustrator' rather than an 'artist' could save you £62! It's a tried and tested method – give it a go and you might bag yourself cheaper car insurance today.
Get quotes using variants of your job title, but remain truthful and accurate.
Finally, we can't stress enough how important it is to compare car insurance quotes with a variety of providers – that's the best way to find the most suitable and cheapest deal for your personal situation and you can do so by tapping the green button below:
Related articles:
---