What Insurance Do I Need to Deliver Takeaways?
Food Delivery Driver Insurance Explained
---
---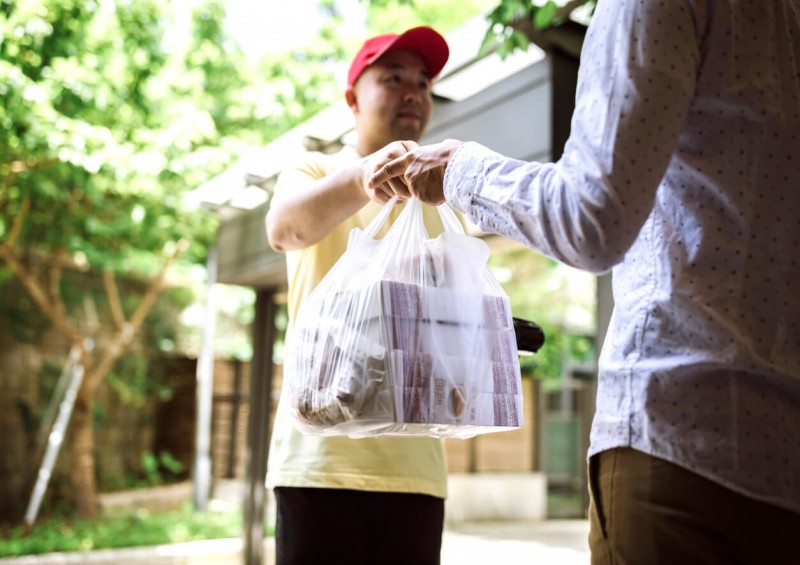 Delivering fast food can be a handy form of extra income for those with spare time during evenings or weekends as takeaways become increasingly popular, with the foodservice delivery market currently being valued at £10.5bn in the UK.
If you work for companies like Just Eat, UberEats or Deliveroo, you will need to use your own vehicle for most food delivery jobs, but that doesn't mean that your standard car insurance will cover you while you're out delivering takeaways.
Here, we explain the type of insurance you need to deliver takeaways in the UK, the consequences for not having the right type of cover (and what happens if you get caught without it, and where you can get an affordable policy today.
Do you need extra insurance to deliver food?
Yes. If you are a takeaway delivery driver and you're wondering if your existing car insurance policy covers you for food delivery then the answer is no - you will need to get special cover.
Standard car insurance does not provide enough cover for the situations you'll be in when delivering takeaways, so you will need to have a fast food delivery insurance policy (a type of hire and reward cover) in place before using your vehicle to deliver food - this is a legal requirement.
What is fast food delivery insurance?
As you are using your own vehicle on public roads, you must, of course, have a standard car insurance policy as it is legally required in the UK.
However, this won't cover you to deliver takeaways in the same way that specialist fast food delivery insurance would, and there are some additional policies that you may need to consider on top of your standard car cover.
You will need fast food delivery driver insurance – also known as hot food delivery insurance – which is a type of hire and reward insurance that essentially covers you for the delivery of goods from one location to another in exchange for payment.
Hot food delivery insurance is a sub-category of hire and reward cover which is offered by specialist insurance brokers and providers around the UK. Many of the most mainstream car insurance companies won't offer this type of cover, so it's likely that you will need to find more niche, specialist providers.
What is hire and reward insurance?
Hire and reward insurance is a type of policy that allows you to legally carry and deliver other people's goods in return for payment.
It is a must-have policy for all sorts of food delivery drivers, including:
Food delivery drivers
Couriers
Taxi drivers
Furniture transport drivers
Hauliers
Read more about this specific type of cover in our full guide to Hire and Reward Insurance.
Specialist food takeaway delivery car insurance
Whether you opt for general hire and reward insurance or a specialist food delivery policy depends on your preferences and driving needs – there are hundreds of policies out there to choose from that will provide you with a sufficient level of cover.
If you're not sure what type of policy you need, you may wish to speak to a car insurance broker who can advise you on the best type of cover and find you the best deal on the market.
The cost of cover varies significantly between providers and policies, so be sure to shop around to find the most affordable deal for you, while ensuring that the insurance protects you against all eventualities.
Some food delivery companies may offer to pay for your insurance for free as an incentive to work for them, but you should never assume that you're covered. If you're not sure, make sure you ask your employer and get a policy in place if specialist insurance doesn't come with the job.
Do I need special insurance to be a delivery driver?
Regular car insurance won't cover you for delivering fast food, even if you have business use, added on to your existing policy, as the Social, Domestic, Pleasure and Commuting (SDPC) usage does not cover you for any driving activities relating to delivering takeaways. So, if you were involved in an accident while delivering food, your standard car cover will not provide a payout to help cover any associated costs (damage, injuries, etc.) - you would have to pay for everything yourself and you could end up getting in trouble by receiving a motoring conviction (see below), which really isn't worth it.
You will therefore need to look into specialist hire and reward insurance for food delivery drivers as an extra form of cover to your existing standard policy.
You don't necessarily need specialist food delivery insurance as such, as most hire and reward insurance policies will provide adequate cover themselves – but you should always check the policy's terms with the provider for any exceptions or loopholes.
What does food delivery driver insurance cover you for?
A takeaway insurance policy will cover you for the additional eventualities you'll be in when driving, as you'll be driving in situations where you'll be under slight pressure (in terms of time) and you are likely to be driving during the night when it is darker. For these reasons, insurers consider you to be more at risk of having a car accident compared to other motorists who drive for Social, Domestic, Pleasure and Commuting purposes.
This is why it is a legal requirement to have additional, specialist takeaway insurance to cover you in these additional situations, so that in the event of an incident while working, you'll be able to claim for a payout to cover the costs.
How much is food delivery insurance?
The cost of food takeaway delivery car insurance – as with all types of cover – varies significantly depending on a range of factors, including:
Your age
Your occupation
What the insured vehicle will be used for
The type and size of your vehicle as well as its engine
When you will be driving (night-time motorists are more at-risk)
Your annual mileage
The amount of excess you're willing to pay in the event of a claim
Your driving history and any previous claims (cheaper premiums for drivers with no-claims bonus and more expensive prices for those with convictions, for example)
Find out more about the factors that impact the cost of your car insurance in our full guide: How is Car Insurance Calculated?
Pay as you go food delivery insurance
If you are only going to be working as a food delivery driver for a short amount of time, it may be worth looking into pay as you go insurance policies, which provide cover for a short-term period, rather than an entire year.
There are pay as you go hire and reward insurance policies available on the market from providers such as Zego, but the list of companies offering such cover is relatively small at the moment.
If you only need food delivery insurance for a month or so, then a pay as you go or short-term hire and reward policy is certainly worth considering as a more cost-effective option. If, however, you need cover for longer than one or two months, it may work out cheaper to get annual cover., you will need to compare quotes to see what will work out best for you and your situation.
What if you don't have the right insurance as a takeaway delivery driver?
If you are a delivery driver without the right hire and reward insurance in place, you could be fined, given an IN10 conviction on your driving licence, your licence may be taken from you, and it's likely that you'll lose your food delivery job if you're caught.
As a result, your car insurance premiums are likely to be much higher in the future and if you need to make a claim after having an accident while working, your policy will be void and you will not receive a payout.
It is the legal responsibility of the takeaway owner to ensure that all of their delivery drivers have the right insurance in place, but you could still be punished if you are driving without adequate cover so it is also your responsibility to make sure you're fully covered. Always check this with your employer before starting and ask for confirmation of cover from them if you want to be 100% sure.
Can I get delivery insurance? Will I be accepted for cover?
Yes, provided you have a full UK driving licence, you do not have any previous driving convictions, serious medical conditions or you haven't lied on your takeaway insurance application, you should be eligible for a policy.
You might like our guide: Why can't I get car insurance?
You can get a food delivery insurance quote today with us here at Compare UK Quotes, simply tap the button below:
Here at Compare UK Quotes, we provide a range of helpful articles for you to find out more about motor insurance and get cheaper premiums. If you would like to know more about the various motor insurance types before getting a policy, read our related guides below:
---