What Insurance Do I Need to Deliver Takeaways?
Food Delivery Driver Insurance Explained
---
---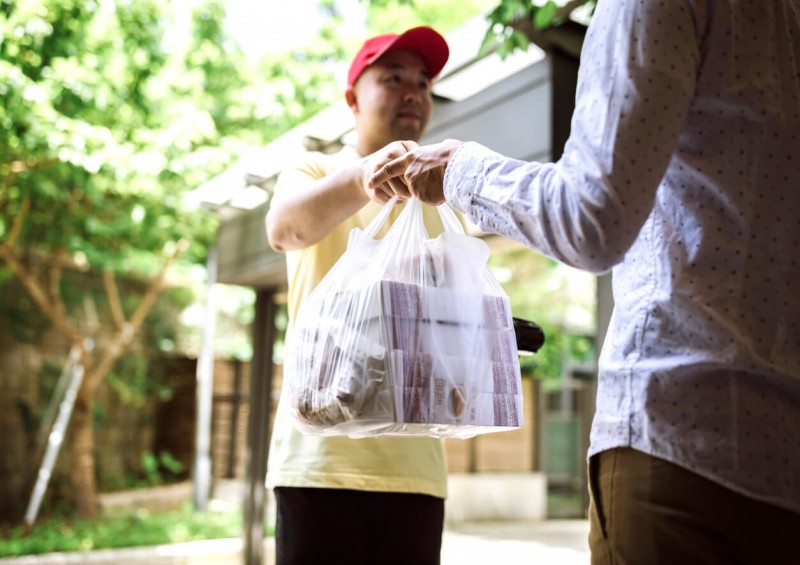 Delivering fast food can be can be a handy form of extra income for those with spare time during evenings or weekends as takeaways become increasingly popular, with the foodservice delivery market currently being valued at £8.5bn in the UK.
You will need to use your own vehicle for most food delivery jobs, but that doesn't mean that your standard car insurance will cover you while you're out making deliveries.
Here, we explain the insurance you need to deliver takeaways, the consequences for not having the right type of cover, and where you can get yours today.
Do you need insurance to deliver food?
It's true that there are a few different insurance policies that you may need if you are a food delivery driver.
Unbeknown to some, standard car insurance does not provide enough cover, so you will need to have a fast food delivery insurance policy in place before using your vehicle to deliver food.
What is fast food delivery insurance?
As you are using your own vehicle on public roads, you do, of course, need standard car insurance as it is a legal requirement in the UK.
However, this won't cover you to deliver takeaways in the same way that specialist fast food delivery insurance would, and there are some additional policies that you may need to consider on top of your standard car cover.
You will need fast food delivery driver insurance – also known as hot food delivery insurance – which is a type of hire and reward insurance that essentially covers you for the delivery of goods from one location to another in exchange for payment.
Hot food delivery insurance is a sub-category of hire and reward cover which is offered by specialist brokers and providers around the UK. Many of the most mainstream car insurance companies won't offer this type of cover, so it's likely that you will need to find more niche, specialist providers.
What is hire and reward insurance?
Hire and reward insurance is a type of policy that allows you to legally carry and deliver other people's goods in return for payment.
It is a must-have policy for all sorts of workers, including:
Food delivery drivers
Couriers
Taxi drivers
Furniture transport services
Hauliers
Read more about this specific type of cover in our full guide to Hire and Reward Insurance.
Specialist food delivery car insurance
Whether you opt for general hire and reward insurance or a specialist food delivery policy depends on your preferences – there are hundreds of policies out there to choose from that will provide you with a sufficient level of cover.
The cost of cover varies significantly between providers and policies, so be sure to shop around to find the most affordable deal for you, while ensuring that the insurance protects you against all eventualities.
Some food delivery companies may offer to pay for your insurance for free as an incentive to work for them, but you should never assume that you're covered.
Do I need special insurance to be a delivery driver?
Regular car insurance won't cover you for delivering fast food, even if you have business use, according to insurance agency Quote Chief. You may therefore need to look into specialist hire and reward insurance for food delivery drivers.
You don't necessarily need specialist food delivery insurance as such, as most hire and reward insurance policies will provide adequate cover themselves – but you should always check the policy's terms for any exceptions or loopholes.
How much does food delivery insurance cost?
The cost of food delivery insurance – as with all types of cover – varies significantly depending on a range of factors, including:
What the vehicle will be used for
The size of your vehicle and its engine
Your annual mileage
Your age
Any previous claims
Your occupation
Find out more about the factors that impact the cost of your car insurance in our full guide: How is Car Insurance Calculated?
Pay as you go hire and reward insurance
If you are only going to be working as a food delivery driver for a short amount of time, it may be worth looking into pay as you go insurance policies, which provide cover for a short-term period, rather than an entire year.
There are pay as you go hire and reward insurance policies available on the market from providers such as Zego, but the list of companies offering such cover is relatively small at the moment.
If you only need food delivery insurance for a month or so, then a pay as you go or short-term hire and reward policy is certainly worth considering. If, however, you need cover for longer than one or two months, it may work out cheaper to get annual cover.
What if you don't have the right insurance as a delivery driver?
If you are a delivery driver without the right insurance in place, you could be fined, your licence may be taken from you, and it's likely that you'll lose your job if you're caught.
It is the legal responsibility of the takeaway owner to ensure that all of their delivery drivers have the right insurance in place, but you could still be punished if you are driving without adequate cover.
You can get a food delivery insurance quote today with us here at Compare UK Quotes, simply tap the button below:
Here at Compare UK Quotes, we provide a range of interesting and helpful articles to help you find out more about motor insurance and get cheaper premiums as you do so. If you would like to know more about the various motor insurance types before getting a policy, read our related guides:
---