Hire and Reward Insurance
---
---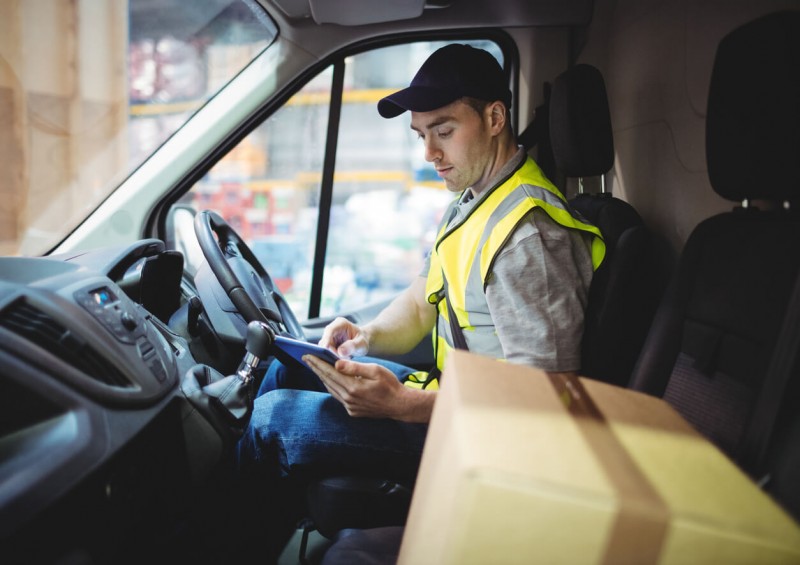 If you're looking to compare prices for delivery insurance to get the best deal, get an instant quote here by tapping the button below. For more information on hire and reward cover, read our guide below.
Motor insurance isn't always straightforward, especially if you're using your car or van for anything other than personal use.
If you need to use your vehicle to deliver goods or you own a company that provides taxi or courier services in the UK, you will need a specialist type of cover known as hire and reward insurance.
Before getting a quote, however, there are some important things you should be aware of to ensure you're fully covered while out on the road, so this guide is here to help explain the definition of hire and reward insurance, the situations in which you might need it, and how to take out cheap cover.
What is hire and reward insurance? Do I need it?
Hire and reward insurance, also known as 'the carriage of goods for hire and reward' is a type of commercial insurance policy for your car or van that is legally required in the UK if you are a courier whose job it is to make several deliveries (parcels or food delivery) to people in local areas. This policy is also designed for hauliers, taxi drivers, furniture removers, or anyone else who is paid to deliver goods or carry passengers on UK roads.
In return, the driver gets paid for these services, so this is why a specialist policy is required - standard car insurance will not protect you against accidents while delivering goods and you will void any cover if you drive around without the correct policy, meaning you will have to cover the costs if you're ever involved in an accident or theft/fire arises. You could also face a fine of up to £1,000 or a conviction if you are caught without the right insurance.
Important: Any business use of your vehicle must be properly covered, so ensure you are covered for all situations (you may still need business cover as well as hire and reward). Also, you may need additional 'goods in transit' insurance to protect the items you're carrying and transporting - more on this below.
You might like: A Guide to Food Delivery Cover
Different types of Hire and Reward cover
Is hire and reward the same as courier insurance?
Hire and reward insurance is most commonly referred to as courier van insurance (or courier car insurance), and while they are very similar, it is important to be aware of the slight differences between the terms when purchasing the right policy for you.
Couriers can purchase hire and reward insurance, but there are different policies available depending on the specific job.
For example, people who work as hauliers or provide furniture removal services are not normally called 'couriers', so they are likely to need a different type of hire and reward policy that specifically covers them for those needs and purposes.
What about haulage insurance?
While couriers make a lot of trips to deliver parcels within local areas, a haulier is a van driver who makes longer journeys to deliver items (usually bigger, heavier goods), and they usually just have one destination to travel to in a day.
Apart from these differences, there isn't a huge difference between hire and reward cover, courier insurance and haulage insurance, but just make sure your policy covers you for your exact job title and driving needs.
Do you need special insurance to deliver takeaways?
Takeaway delivery drivers often do this to earn a second income during the evenings and many people now deliver takeaways as a full time job as a result of the Covid-19 pandemic. It may feel like you shouldn't need a specialist policy, but delivering a curry or pizza to a customer counts as hire and reward, so specialised food delivery insurance is available and can often be an affordable option for delivery drivers.
Read our full guide to food delivery insurance for more information.
Do I need hire and reward cover if I'm a taxi driver?
There are certain hire and reward policies available for taxi drivers in the UK.
Depending on the provider and policy you purchase, hire and reward insurance may not cover you for your needs, so just check whether or not you will need to purchase a specialist taxi insurance policy to be able to legally take passengers to and from places in return for money (reward).
If you have a taxi business that owns more than one vehicle (or several), you will need to purchase taxi fleet insurance.
Just remember that if your taxi has more than eight seats, or if you are a chauffeur, you will need to inform the insurer and you may need a different insurance policy again. They will be able to help you, though.
What if I'm transporting my own goods for work?
The carriage of goods for hire and reward is slightly different to transporting items that you own as part of your job; while this still needs business-class insurance, it is considered to be 'carriage of own goods' rather than hire and reward.
An example of 'carriage of own goods' would be a tradesman using a van to take his own tools to a customer's site.
If your van is used to transport or deliver other people's goods in exchange for cash, you need to have hire and reward insurance in place.
For more information on van insurance, be sure to check out our related guides:
What is hire and reward insurance for a van?
Class 3 business insurance is available for all types of vehicles – a van or motorcycle can be covered in the same way as a car.
You could even get class 3 business insurance to become a taxi driver using a camper van, as unusual as that would be!
What does hire and reward insurance cover?
Hire and reward insurance covers you in the case of an accident. It will pay for any damages and repair costs that arise as a result of a road traffic accident, cover legal expenses and any personal injury compensation claims.
Without it, you will have to cover all costs yourself (which can be extortionate) and you will receive a driving conviction known as IN10 for driving around without insurance.
Depending on your level of cover, it may also cover the 'goods in transit', but if it doesn't, you will need to purchase a separate policy. We will explain more about goods in transit insurance in the next paragraph.
You may also wish to check that your policy covers you for additional coverage for things like breakdowns, legal expenses, trailer cover and/or no claims bonus protection - if you need to, that is.
Important: Hire and reward cover does not cover you for high-risk, expensive items or hazardous goods - be sure to tell your insurer exactly what type of goods you carry in your vehicle.
Read more: Car Insurance Extras: Which Ones are Worth it?
Goods in transit insurance - Do I need it?
Yes, you need goods in transit insurance to cover the items you are transporting in the event that they get damaged, stolen or lost.
When purchasing an insurance policy for the carriage of goods for hire and reward, it may already include protection for your goods in transit, but you'll need to check this with your insurance provider as all insurers have different policies and levels of cover.
If they tell you that your items are not covered by your hire and reward policy, you will need to get separate 'goods in transit insurance' - unless your insurer will let you add this onto your existing hire and reward policy as extra coverage.
When purchasing a policy, it is vital that you check to make sure you're fully covered for all situations regarding your job.
What is class 3 business use car insurance? Is it the same as public liability insurance?
Running a business requires multiple types of insurance policies for different purposes depending on the services you offer, with motor insurance being just one part of the total package that protects your company.
Class 3 business insurance is available for all types of vehicles - a van or motorcycle can be covered in the same way as a car and it is there to make sure that you are legally entitled to be driving on the road as part of your work.
It is an enhanced version of your standard social, domestic and pleasure car insurance that takes into account the greater risk that you present on the road as you use the vehicle for business purposes.
Other types of insurance associated with the business will also be needed, but will not necessarily be related in any way to your driving.
Public liability insurance, for example, covers you and your business should a member of the public suffer personal injury or damage to their property when your company is at fault, while employer's liability insurance needs to be in place to protect anyone who works for you while they are doing their job.
It's important to remember that these additional types of insurance policies are very important to anyone running a company, and you will need to look into them if you wish to be fully protected.
When purchasing courier van insurance, you may already be covered for the following:
Public liability
Employer's liability
Courtesy van cover
Windscreen cover
This will depend on whether you get comprehensive, third-party, fire and theft cover (TPFT) or third-party only (TPO), but again, be sure to check what's included in your policy with your insurer.
At Compare UK Quotes, we always recommend getting fully comp cover to ensure you're protected against all eventualities possible.
Hire and reward insurance cost - How much is courier insurance?
Hire and reward insurance, or courier insurance, is typically more expensive than basic vehicle insurance, but, of course, it varies between each insurance company and policyholder.
The cost of cover will completely depend on your type of van, your driving history and experience, including an array of other things (read our guide on the cost of car insurance to see how it's calculated).
Drivers who are purchasing a hire and reward policy as a haulier or furniture removal company can expect to pay lower insurance premiums as they only tend to have the one destination to drive to per day, meaning that they are not rushing around as much as couriers and have pre-planned routes mainly on motorways.
Generally, hauliers tend to make fewer claims for these reasons, so that's why insurers don't charge as much as they do for couriers.
To find out exactly how much you'd pay for cover, tap the button below and get your free quote today!
Why is hire and reward insurance more expensive than standard cover?
Hire and reward insurance is more expensive than personal car insurance as a reflection of the additional risk that you pose to the insurance company as you are using the vehicle for business purposes.
As a business driver, you will likely be doing all or some of the following, which makes you more high-risk to insure according to the insurance providers:
Driving many more miles

Driving during busy periods

Driving in inner-city areas with more hazards

Driving at hazardous times (night time delivery, for example)

Driving while relying heavily on sat-nav systems

Driving under time pressures

Driving with heavy loads

Driving with more passengers

Driving with more distractions
Due to the reasons listed above, drivers with hire and reward insurance policies tend to make more claims as they are put in riskier situations compared to drivers with standard cover and those who only use their vehicle for personal use.
Do I need to get courier insurance or will my company provide it?
Depending on your contract with your company, you may be covered by their insurance – in which case, you will not need to get a hire and reward policy or a goods in transit standalone insurance policy yourself. However, it is important to check with your employer to make sure you're fully covered for all instances.
There are a number of different jobs that require specialist hire and reward insurance, from newspaper delivery drivers, to waste transportation professionals.
You should always check with your employer, but you are more likely to be covered by their business insurance if:
You are on the payroll of the company (rather than a contracted worker)

The vehicle is provided to you as part of the job

You pay benefit-in-kind tax (i.e. the car or van is paid for by the company in some way)

Your employer has never asked to see your own car insurance!
On the contrary, if you are any of the following then you should check immediately to see if you need independent insurance:
You own your own business

You own or pay for the vehicle yourself

You have no signed contract

Transporting the goods (or people) is infrequent and could have been misunderstood to not require specialist insurance
The simplest thing can put you outside your personal car insurance, which is why it's so important to always check that you have the right cover for the job you are doing and if you are in any doubt, contact your insurer and describe your situation to them – they'll know what cover you need and can upgrade you immediately.
Do I need special insurance to be a delivery driver?
Hire and reward insurance is an umbrella term that covers many different types of specialist delivery insurance policies.
You may even find that you can get specific delivery driver insurance for your exact job that is cheaper than a generalised class 3 business insurance, so be sure to shop around, do your research and ensure you are fully covered for your specific driving needs.
How to get hire and reward insurance
You can get an affordable quote for courier insurance now by tapping the button below:
You simply need to complete one straightforward form and then you'll receive your quote within minutes, free of charge.
Insurance help at Compare UK Quotes
Here at Compare UK Quotes, we are dedicated to helping you make the most out of your money – whether you're looking for insurance or simply need to improve your budgeting skills.
Our library of insurance article is extensive and ever-growing. Why not read up on how to save money on car insurance, or find out what options you have when it comes to getting van insurance?
We have it all, so be sure to browse our website or read our related articles below for more information!
Related articles:
---