Electric Scooters May Lead to Fines and Car Insurance Hikes
Are you in danger of losing your driving licence?
---
---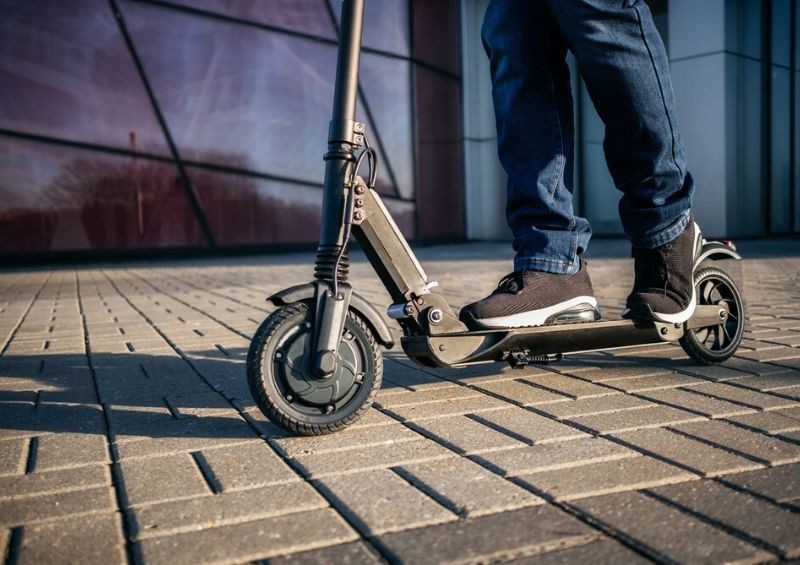 The popularity of electric scooters – also referred to as E-scooters – has surged in recent months, as people have been exploring more socially-distanced ways of getting around.
While they are freely available to buy in the UK, many users are unfamiliar with the laws surrounding the use of electric scooters, a mistake that could cost you your driving licence, a £300 fine, and a rise in your car insurance premiums.
Electric scooter UK laws
Electric scooters are classed as "personal light electric vehicles" and must therefore meet the same legal requirements as cars, in terms of their technical safety standards, vehicle excise duty (road tax) and insurance.
The private electric scooters that are currently being sold on the market in the UK do not meet these requirements, meaning that those who use them on the road are essentially breaking the law.
The E-scooter Covid-19 lockdown trend
Data from Google Trends – the search engine's analytical tool – shows that there has been a 376% increase in the total number of searches for electric scooters since the beginning of the Coronavirus (Covid-19) lockdown.
However, the people riding these handy little motors around cities, towns and villages may be breaking the law unknowingly and could face some serious consequences under the current UK laws.
The consequences of riding an electric scooter illegally
Private E-scooters must only be used on private land with the permission of the landowner. If they are used on public UK roads, electric scooter riders risk facing the following potential consequences:
A £300 fine

Six points on their licence

Losing their driving licence if they are a new driver

Increased car insurance premiums
New drivers could lose their licence
A new driver is only allowed six penalty points on their licence within their first two years of driving; if they have any more, they risk losing their licence altogether.
This means that something as simple as riding an electric scooter on a public road – a seemingly harmless act – could result in you losing your licence. In order to get back on the road, you would need to re-apply for a provisional licence, and do both your theory and practical driving tests again.
Six points is a relatively steep punishment, given that the minimum penalty for speeding is just three points, so be sure to think twice about using an adult electric scooter on public roads in the UK.
Your car insurance premiums could increase
As a result of this driving conviction or the points on your licence, your future car insurance premiums is very likely to increase, as your provider will deem you to be a higher-risk policyholder.
See our related guides for more information on how car insurance is calculated and the reasons why your premiums may have increased.
Legal trials of E-scooters on public roads
Not all electric scooters are illegal on roads in the UK at the moment, as the government recently announced a trial that allows the use of rented E-scooters on public roads, cycle paths and lanes.
This came into effect on the 4th of July and is part of the government's review of transport as the Coronavirus lockdown begins to ease.
Rented E-scooters will be classed as motor insurance vehicles during the trial, which will last a year, and anyone using one will need to have a driving licence and insurance policy. You don't need to buy your own personal insurance though, as the rental company will provide it for you.
However, you should keep in mind that it is still illegal to ride your own private E-scooter (i.e. one that hasn't been rented) on public roads in the UK, even during this trial year.
What has been said? Are electric scooters legal in UK?
CEO of GoCompare Car Insurance, Lee Griffin, recently said that "privately-owned e-scooters are currently banned from use on the public highway but, this doesn't seem to be deterring people from using them".
He continued, expressing concerns that "following government advice to avoid public transport because of the pandemic, more people will buy an e-scooter to use for short journeys, without perhaps realising that they can only use them on private land".
There's also the issue of people being "confused by the government's rental trials", and mistakenly believing that the trial of rental electric scooters means that private e-scooters are also now road-legal, which is not the case.
While electric scooters may be better for allowing social distancing than other alternatives, such as public transport, private E-scooters are still illegal to drive on UK roads. The only road-legal electric scooters currently available are those from rental companies.
So, is it worth buying an electric scooter? It's true that these restrictions may not be in place forever, so you shouldn't throw yours away just yet, but it's worth being aware of the potentially dire consequences of driving an E-scooter on a public road before you purchase one in 2020.
Read more about motor insurance and car costs in our related guides:
---