Is My Car Insured for a Driving Test?
---
---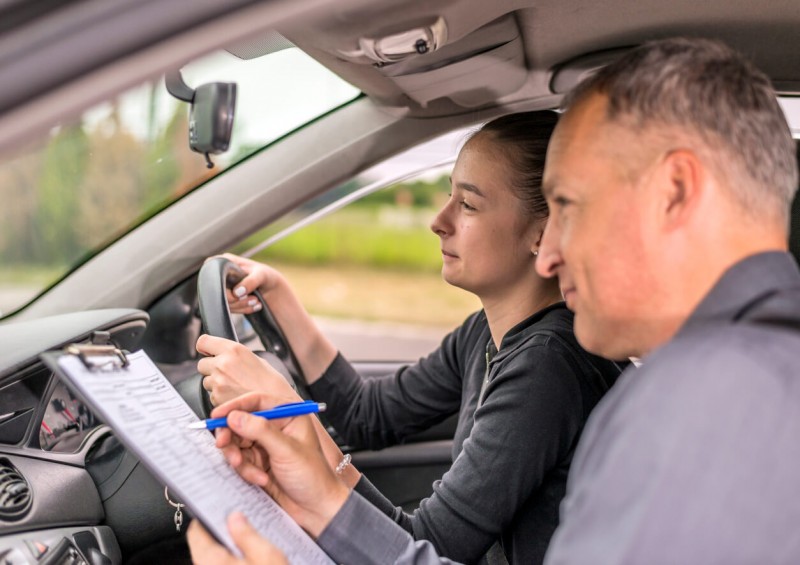 Taking your driving test is a significant event in your life, so you will want to get it right, and if you feel more comfortable driving your own car, then you should do exactly that.
If you choose to take a test in your own car, you will notice that it must be "insured for a driving test" when you book it on Gov.uk and that you must "check with your insurance company".
But what does this mean? Will temporary car insurance or a learner driver policy cover you? We explain everything you need to know here.
Using your own car for a driving test
You can take a driving test in your own car in the UK, but there are some requirements to meet first. Your vehicle must:
There are even some cars mentioned on the government's website that you cannot use for a driving test, including the BMW Mini convertible, Ford KA convertible, Toyota iQ, and VW Beetle convertible.
Of course, what we're focusing on here is what the government's official website means by "your car must be insured for a driving test (check this with your insurance company)".
Car insurance for a driving test
There are many ways to be insured for your driving test, including:
Not every policy with every provider will include insurance for a driving test, so – as the Gov.uk website says – you should check this with your provider beforehand if you plan on using your own vehicle.
Car insurance through driving lessons
All DVSA-approved driving instructors will offer you learner car insurance automatically within the cost of your lessons – this protection also covers you during your practical driving test.
So, if you plan on using your instructor's vehicle, you won't need to worry about getting your own insurance for a driving test.
This is one of the many benefits of using a DVSA-approved instructor, as you don't need to spend time searching for the best car insurance deals and can concentrate on honing your skills instead.
You will be completely insured during these driving lessons and your test – as long as you use your instructor's vehicle – but you will not be covered outside of them. For example, if you want some extra practice in your own car or your parents' car, you will need your own cover.
There are a few different options to choose from, including:
Getting temporary car insurance to use your own vehicle for a driving test
If you want to take your driving test in your own car, rather than your instructor's, you will need to take out your own car insurance and ensure that it covers the test itself.
Many learners who choose to do so opt for temporary car insurance (also known as short-term cover). These policies can last anywhere between one day and several months, depending on your preferences, so they can help reduce the overall cost of your premiums as you will only pay for cover for a limited time.
When you take out temporary cover, however, it's important to check that it will cover your driving test, as mentioned on the Gov.uk website. Most policies will, but it's always worth checking, just in case.
Read more in our related guides:
Learner driver car insurance
Learner driver insurance is a specialist type of temporary cover that is specifically designed to cater to the needs of those who have not yet passed their driving test.
This type of policy can be purchased either through a specialist learner driver insurance provider or with a general insurance company like Admiral or Aviva, but it is worth comparing quotes from both before buying a policy to ensure you get the best deal.
Specialist insurance for learner drivers usually lasts between one and 28 days (or sometimes longer, depending on the provider), so they are particularly useful if you know how long you will need cover for. If you get cover for 28 days in the hope of passing your test within that time, but fail to do so, you can always add some additional days as and when required, similar to a pay-as-you-go policy.
Read more in our full guide to learner driver cover, or get a quote today:
Full annual car insurance
You also have the option of purchasing standard annual car insurance, but this may be one of the more costly options, as you are paying to be fully covered for an entire year.
If you are considering a long-term learning process, or you are thinking ahead for when you have eventually passed, an annual policy may be a useful option for you. You can set the policy up as a learner driver with your provisional licence and can then update it when you pass your test. You must remember to update your details though, as your cover could end up being invalid if you fail to do so.
Getting an annual policy early could help you build a no-claims bonus, and it could be cost-effective if you are planning on taking your time as a learner driver.
Not all annual insurance policies will cover your driving test, however, so you must check this with your provider before committing to a policy.
Get your free car insurance quote today:
Named driver insurance
Another option available to you as a learner driver looking to take your test in a vehicle other than your instructor's is being added as a named driver to someone else's policy.
You must not be the main user of the vehicle as the named driver, and it's worth noting that being added to a policy could increase the main policyholder's premiums.
It can be a cost-effective way of being covered if you only plan on using someone else's vehicle (your parents', for example) on rare occasions, and if you need cover for the entire year.
It is certainly a route worth exploring, but if you only want cover for your driving test or over a short-term period, you might find that a temporary car insurance policy is more affordable.
Read more: How Does Named Driver Insurance Work?
Can you drive your car home from a driving test?
According to insurer Veygo, if you have car insurance with a provisional licence, you won't be insured to drive home with a full licence once you pass the test.
Your instructor will usually drive the car home, as long as their insurance allows them to drive other cars.
Read more: What to do after passing your driving test
Compare car insurance at Compare UK Quotes
Car insurance is a necessity for all drivers in the UK, regardless of how experienced or inexperienced you are.
But before you rush to take out cover, it's important that you shop around and explore what type of car insurance best suits your personal situation.
Get started today by comparing cheap car insurance quotes and see how much you could save on cover:
Related guides:
---