Why You Should Shop with a Credit Card this Christmas
---
---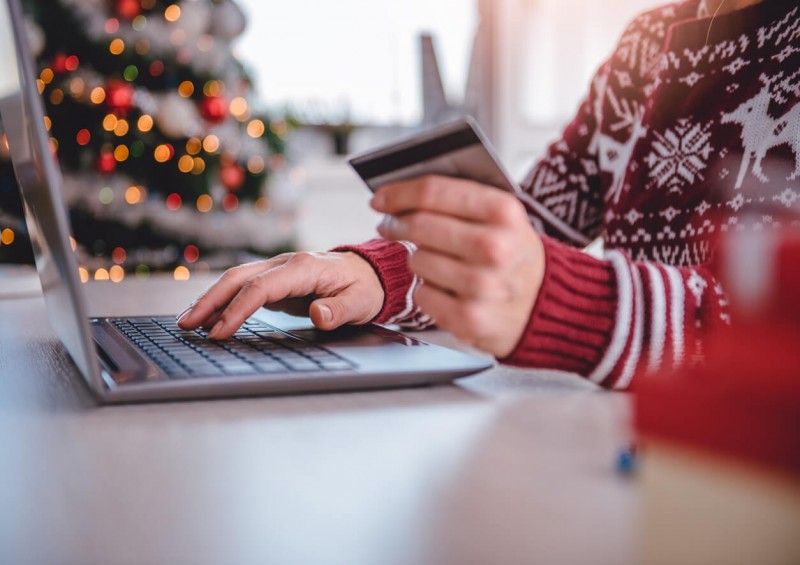 Christmas: the most wonderful, yet expensive, time of the year.
When you consider everything from presents, food and drink to decorations and even energy bills, the cost of Christmas can be quite overwhelming for many.
Using the right credit card to do your Christmas shopping can help ease the financial pressure that can occur during the festive season, and you could even earn a few handy rewards on the way!
According to Go Compare, 10% of UK households will put the entire cost of their Christmas on a credit card, but why? There are quite a few reasons to ditch your cash or debit card in favour of a credit card this Christmas, which we'll explain right here in this guide.
Remember: Only apply for a credit card if you know you'll be able to pay off the balance in-full, before you start being charged interest.
Get cashback on your Christmas shopping (free money!)
Certain credit cards in the UK will offer a set percentage of cashback on all your purchases – that's free money for paying for your shopping on a cashback credit card!
As always, make sure that you can pay off the balance and be wary of the higher annual interest rates that often come with these cashback cards.
You might like our guide to Black Friday shopping.
American Express Platinum Cashback Everyday Credit Card
You could earn 5% cashback on all your purchases (up to £100) for the first three months using this American Express card, which makes it ideal for December when you're bound to make a lot of purchases.
After the first three months, you'll still earn 0.5% cashback on all purchases up to £5,000 and 1% cashback on anything above £5,001 as well, as long as you spend at least £3,000 on the card each year.
It has a representative rate of 22.9% APR (variable), so make sure that you can comfortably pay off the balance each month to avoid falling foul to the high annual interest rate.
For more information, see our full guide to the credit cards with the best rewards schemes.
Improve your credit score by purchasing Christmas gifts
If you read our previous guide on improving your credit score, you may have noticed that spending little and often on a credit card could help boost your future chances of being accepted for a personal loan, mortgage, or even a better credit card with an increased credit limit and lower interest rates.
As long as you can comfortably pay off the monthly balance, doing just some of your Christmas shopping on a credit card could help improve your credit score massively, as you're demonstrating an ability to pay back what you owe in-full and on-time.
Getting a credit card regardless of your credit score
While it's true that the best credit card deals are restricted to those who have an above average credit score, you don't have to miss out completely if you've got a poor credit rating, there are options available.
One of these options is the Capital One Classic credit card, which is designed specifically for those with a poor credit score in-mind and offers 0% interest on purchases for four months and an initial credit limit of between £200 and £1,500 (depending on your personal circumstances).
When the interest-free period is up you'll start being charged 34.94% APR, so be sure to clear your balance before being stung by the high interest rate.
Another option for those with a poor credit rating is the Tesco Foundation Clubcard Credit Card, which allows you to earn one Clubcard point for every £4 you spend at Tesco stores and fuel, plus one point for every £8 you spend on the card elsewhere.
There is a credit limit of between £250 and £1,500, but if you manage your account well and pay off the balance in-full each month, you may be able to increase your limit down the line which will, in-turn, improve your credit score too.
The two cards mentioned above are tailor-made for those with a below average credit score but will also gradually improve your credit rating as you use them, as long as you use them with care, which will increase your chances of being eligible for a better credit card in the future.
Learn more in our guide to improving your credit score with CreditLadder.
Reward points on your supermarket shopping
Whether you shop at M&S, Tesco or Sainsbury's, us Brits love our supermarket loyalty cards.
You can now rack up points using specific credit cards offered by these companies, but remember not to mistake them with your average supermarket reward card, as they are fully-fledged credit cards.
M&S Shopping Plus Offer Credit Card
With the M&S Shopping Plus Offer Credit Card, you earn one loyalty point per £1 spent on the card in-store and online at M&S, as well as one point for every £5 spent elsewhere.
You also get a hefty welcome bonus that you can use to spend on food, clothes, homeware and just about anything else from M&S. As a cardholder, you get 0% interest on purchases for 20 months, and 19.9% (variable) thereafter.
Sainsbury's Dual Offer Credit Card
Shoppers that spend with a Sainsbury's Dual Offer Credit Card earn two Nectar points for every £1 they spend at Sainsbury's stores and petrol stations, plus one point for every £5 they spend elsewhere.
New customers are typically offered significant welcome bonuses, which can be spent at Sainsbury's and used towards your Christmas shopping – whether it's your Christmas turkey or a new iPad.
It offers 0% interest on purchases for 25 months, after which there's an annual interest rate of 20.95% (variable).
The interest rate and length of your interest-free period might vary in relation to your individual circumstances, but you can check that directly with M&S or Sainsbury's.
Read more in our guide to the best credit card rewards in the UK.
Spread the cost of Christmas and pay no interest
A 0% purchase credit card allows you to spread the cost of your Christmas shopping over the course of several months, without having to pay a penny in interest.
Many of these credit cards will only offer a 0% purchase deal for a set period – often 20-26 months – and will then have a standard interest rate of around 20% APR once that interest-free offer ends. It's therefore crucial that you clear the balance before the interest rate increases, to avoid additional charges that we could all do without around Christmas time.
Credit card protection is better than cash or debit cards
In comparison to spending with cash or debit cards, purchases that you make with a credit card come with additional protection thanks to Section 75 of the Consumer Credit Act. This law means that you're protected if the goods are not up to standard or have been misrepresented.
To learn more about this, head over to our article on credit card protection.
Using a credit card for your Christmas shopping can help ease the financial stress of the festive season if done so properly, and you never know, you might nab yourself a few rewards while you're at it!
---