One in Three Brits Rely on Short-Term Credit for Essentials
Overdrafts, loans and credit cards are on the rise.
---
---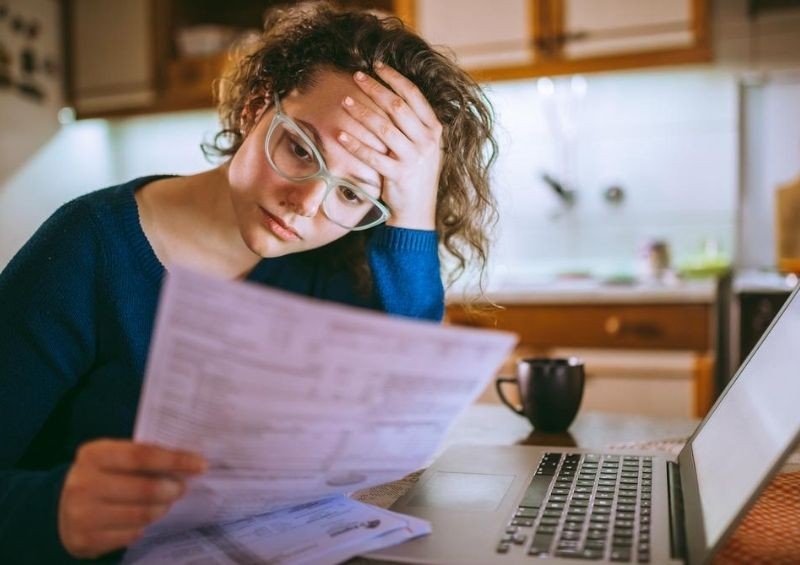 Financial advisors at OpenMoney have revealed that a third (34%) of Brits are using overdrafts, credit cards, payday loans and 'buy now pay later' (BNPL) arrangements in order to pay for essentials.
Alongside YouGov, OpenMoney hold an annual financial report, looking at the UK's wealth, debt and the need for advice. This particular study (part of OpenMoney's report: The UK Advice Gap 2020: Are Consumer Needs for Advice and Guidance Being Met?) was undertaken in early March, before the worst of the Coronavirus pandemic in the UK.
OpenMoney found that the number of UK consumers relying on credit for essentials had increased slightly in comparison to the previous year, when it was 33%. The percentage of people borrowing from family or friends to resolve financial difficulties had also risen by 1% from last year.
The study, which queried 2,000 Brits, suggested that a large proportion of people in the UK were struggling financially even before the Coronavius (Covid-19) pandemic had a dramatic impact on jobs and industries.
Interestingly, the study also revealed how Brits handled their debt and financial hardship.
How to reduce your debt
OpenMoney found that the most popular way of reducing debt in the UK was to start by cutting spending, with over half of respondents (55%) stating that they had done so.
41% of people reported that they dealt with financial difficulty by budgeting more strictly, while a relatively significant 33% revealed that they use their savings as a way of getting by.
28% of respondents told OpenMoney that they handle financial hardship by borrowing from friends or family.
Read more: How to Manage Your Debt
What has been said?
Anthony Morrow, Chief Executive of OpenMoney, said: "It is revealing that the number of people cutting back on spending and budgeting more has fallen from last year, while those borrowing on credit and from friends and family has risen. This could suggest there was already less fat to trim in household budgets even before the impact of coronavirus".
He continued, raising concerns regarding how people are reliant on high-cost short-term credit options, including 'buy now pay later' schemes and pay day loans:
"With rising household debt, we are particularly concerned about over-reliance on short-term credit for day-to-day spending, especially new forms of credit like buy-now-pay-later schemes and workplace lending services which make it very easy to take on debt without fully thinking through how you will pay it back or the impact on your credit rating if you don't."
You might like: The Impact of Coronavirus on Credit Cards
How does debt affect your credit score?
Borrowing responsibly will have no negative impact on your credit score or rating, but it's worth noting that missing payments, being in too much debt and being rejected for credit is almost certain to affect your credit score.
If you carry a lot of debt and have a credit utilisation rate of over the recommended 30%, meaning that you use more than 30% of your credit limit (the maximum amount you can borrow), then your credit score is likely to be damaged.
Having a poor credit score can lead to a variety of financial issues, including the fact that you will struggle to get the best deals when trying to take out a mortgage, personal loan or credit card.
Read our guide to improving your credit score if you have a bad credit history or check your credit score today with Check My File to find out where you stand:
Read more: How to Build Your Credit Score with a Credit Card
Calls for consumer credit law to be strengthened
OpenMoney used the report to call for the government to strengthen consumer credit law and to standardise regulation for all types of unsecured debt (loans that are not backed by collateral), including buy now pay later schemes, to make sure that borrowers are fully aware of the implications before accepting that type of debt.
It also suggested that the government should bring forward the Breathing Space Scheme, which is due to start in May 2021. This scheme will allow people with 'problem debt' to freeze interest, fees and enforcement for up to 60 days while they receive financial advice from a professional.
Payment holidays during Coronavirus
Concerns were also raised relating to how households would be able to handle debt from mortgages, loans and credit cards once their payment holidays come to an end following the pandemic.
Morrow said: "When the payment holidays end, customers are likely to face larger monthly payments, or have to pay their debt back over a longer period and potentially paying more in interest, which could drive more people into financial difficulties".
As experts previously warned, payment holidays themselves can also have a negative impact on your credit rating, with many customers being rejected loans or mortgages after taking one.
Short term credit – such as pay day loans and buy-now-pay-later schemes – can be dangerous, as they are often costly forms of debt. Always borrow responsibly and be sure to seek professional financial support if you are struggling to make repayments.
For more personal finance advice, check out our related guides on loans, credit cards and credit scores:
---