Adding a Child to Your Car Insurance Policy
The cheapest ways to get your child on the road
---
---
If you're the parent of a new driver, you'll know how expensive car insurance can be for them. Adding an inexperienced driver to your car insurance policy can help to reduce their initial driving costs, but the savings don't come without risk.
Here are some of the pros and cons of naming a young driver on a car insurance policy.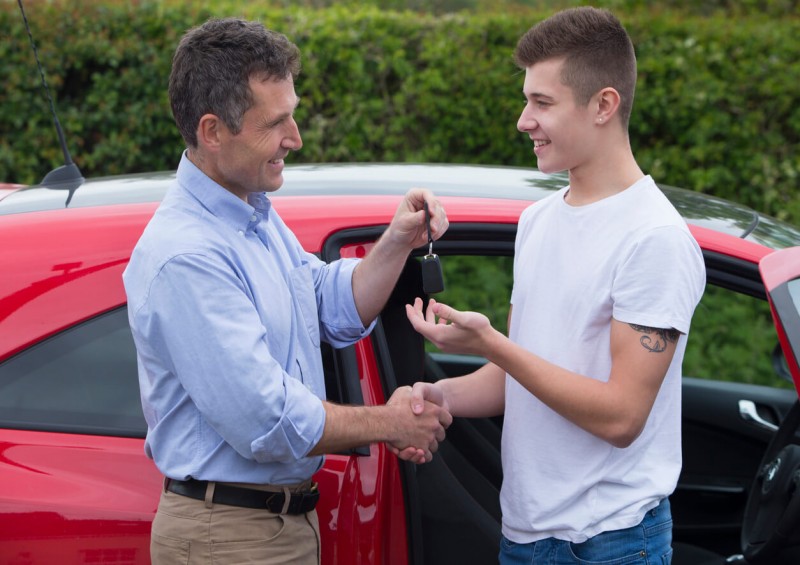 Can you add your child to your car insurance policy?
First of all we should clarify that, yes, it is absolutely possible to name your child on your car insurance policy – getting car insurance on a parent's car is a great way to save costs on a new driver policy, as long as they have a driving licence (provisional or full) and the car is not owned, or predominantly driven, by the child.
For example, if your child has recently bought their own car, been gifted a vehicle that you used to drive or even have predominant use of your vehicle, they have to be the main driver on the car's insurance. Failure to comply with this process is known as 'car insurance fronting' and is a serious offence, filed under the category of fraud.
If found guilty of car insurance fronting, not only will the insurance policy be invalid in the event of an accident meaning any costs involved will come straight out of your pocket, but the driver could be harshly prosecuted with a fine of up to £5,000 and 6 points on their licence – for drivers who have held their licence for less than 2 years, that's enough for an instant driving ban.
The ramifications don't stop there, though, as being placed on the Insurance Fraud Register (IFR) can make it extremely difficult to find future insurance policies as well as loans and mortgages.
You can find out more about car insurance fronting and how to make sure that you're not breaking the law here: Car Insurance Fronting: Are You Breaking the Law?
How much does it cost to add someone to your car insurance?
So, how much does it cost to add a driver to car insurance? The cost of adding a driver to your car insurance policy can vary, but in the majority of cases of adding children to a car insurance policy, there is a significant price increase. The reason for this is that young drivers are statistically more likely to make a claim given their lack of experience.
It's worth noting also that, when adding somebody to your car insurance policy, you are likely to be charged an admin fee to make the amendment (usually between £30 and £50).
Rather than putting your child on your policy, another popular option is to take out a temporary car insurance policy – in doing so, they will receive comprehensive car insurance when behind the wheel of your car and, if they need to make a claim, your no-claims bonus and insurance policy will be unaffected. This is an ideal option if your child is in the process of looking for their own car as you can take out a policy for as little as 2 hours.
>>> Get a cheap temporary car insurance quote with InsureDaily <<<
When naming a young driver on your car insurance, it is also important to remember that most insurance providers will not allow them to build up their own no-claims bonus until they have a policy in their name, meaning that their insurance premiums will remain high for the foreseeable future – some insurers, like Admiral, will allow named drivers to build up a no-claims bonus as long as they remain a customer with them when they take out their first full policy.
Adding yourself to your child's policy
When your child decides to take out an individual car insurance policy, there are a number of things you can do to help them reduce their premiums – one of them is adding yourself as a named driver on their insurance.
By adding an older, more experienced driver (who has no recent driving-related offences to their name) to a car insurance policy, the insurer can assume that the driving responsibility will be at least partially shared, meaning that the younger, higher risk driver would spend less time at the wheel.
There are no actual requirements which state how the driving must be shared among drivers, but the gesture alone is enough to save young drivers potentially hundreds of pounds – so not only will your child's car insurance premium be lower, but you'll have comprehensive cover to drive their car if you need to.
Reducing car insurance premiums for young drivers
As well as adding yourself to their individual car insurance policy, there are a number of ways in which you can help your child to reduce their insurance premiums. These include:
Black Box Car Insurance – consider a black box (or telematics) car insurance policy, which analyses things like steering, acceleration and overall driving performance to set insurance premiums.

Choose wisely when car shopping – larger, more powerful cars are much more expensive to insure. Encourage your child to opt for something smaller until they have built up their no-claims bonus in a few years' time.

Increase excess – but only if they'll be able to afford the extra costs in the event of an accident. Increasing the amount of voluntary excess owed after a claim can reduce a yearly premium, but it doesn't come without risk. Find out more

Extra qualifications – extra driving qualifications like Pass Plus can help to increase the level of trust between the insurance company and the driver – more trust translates into lower premiums.

Increase security – most insurers will take the car's security into consideration when calculating an insurance premium. Whether it's parking in a locked garage or investing in security tech, a more secure car is normally less likely to be stolen or vandalised.
Where to buy car insurance for new drivers
If you're looking to add your son or daughter to your existing car insurance policy, you'll have to contact your insurance provider directly to get a quote.
However, if you want to go down the route of temporary car insurance, specialist providers like InsureDaily offer short-term cover at a competitive rate for new and experienced drivers alike for between 1 and 28 days.
Finally, if your child is looking to take out their own, individual car insurance policy, a comprehensive policy with Admiral is sure to meet all of their needs with cover for windscreen repair, a courtesy car and cover in Europe all included as standard.
Related articles:
I'm Learning To Drive: Do I Need Car Insurance?
---