First Car Insurance
A guide for new drivers buying cover for the first time.
---
---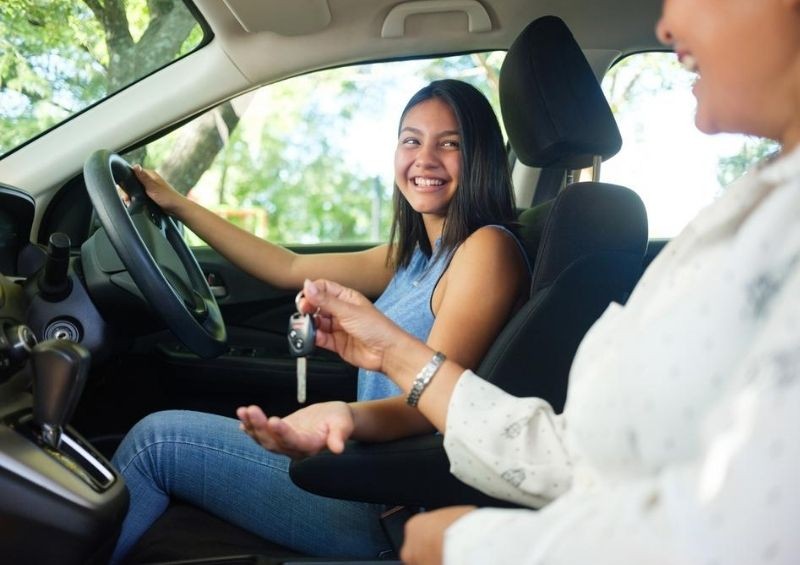 Passing your driving test and buying your first car is an exciting experience, but there are plenty of things to sort out before hitting the road, including road tax and insurance.
Getting cheap first car insurance or new driver insurance can be difficult, but there are plenty of ways to reduce the cost your premiums.
Here, we explain what first car time car insurance is, how much it costs, and how you can get cheaper cover.
What is car insurance for first time drivers?
First car insurance essentially refers to the first time a driver takes out a car insurance policy once they have passed their test. Car insurance is legally required to drive on UK roads, so it's unfortunately an expense that all motorists must come to terms with.
There are three main types of car insurance policies to choose from, offering varying levels of protection:
The most extensive (and often cheapest) level of insurance is fully comprehensive cover, so the majority of drivers may want to get quotes for this type of policy first.
If you find that third party insurance would be considerably cheaper for you, which may be the case as it varies from person to person, then you will need to weigh-up your options in terms of the cover provided and the cost of premiums.
It's important that you get the cheapest first car insurance available that suits your needs, while also having a sufficient level of cover in place to protect you against all relevant eventualities.
Unfortunately, first time driver insurance is synonymous with expensive premiums, but exactly how much could you be paying for cover as a young driver?
How much is car insurance for first time drivers?
Most drivers pass their test at the age of 17 according to Confused.com, and unfortunately, this is also the one of the most expensive age groups to insure.
But how much is first time car insurance? Car insurance for first time drivers aged 17-years-old costs £2,051 on average, according to the Confused.com price index. This is £1,281 more expensive than the national average for all motorists in the UK, showing just how costly car insurance can be for young drivers.
It's also worth noting that car insurance for new drivers over 25 is also likely to be expensive, as they still lack experience and proof of their safe driving.
Read more: Average Cost of Car Insurance in the UK
Why is car insurance so expensive for young drivers?
Car insurance companies calculate the cost of cover using a variety of factors, including a person's age, their driving experience, where they live, their annual mileage and the vehicle they drive.
Ultimately, how much you pay for cover is determined by the level of risk that you pose as a driver.
Unfortunately, your level of risk as a new driver is high, as statistics from previous claims show that younger and less experienced drivers are more likely to be involved in an accident and therefore make a claim on their policy, which leads to insurers being required to pay out.
Because they are more likely to need to provide a pay-out for young drivers, insurers often set very high premiums to cover their backs.
Read more: Why is Car Insurance So Expensive?
Building a no-claims bonus
Regardless of how good or safe a driver you are, you will not have built up a no-claims bonus when you begin driving and will therefore have no proof of your driving abilities.
This is a major reason why first time drivers are required to pay so much for their car insurance, but there is unfortunately not much you can do about it. However, there are other factors that you can control and many ways to reduce the overall cost of your premiums.
How to get cheap first car insurance
Here are eight easy ways to get cheap car insurance for first time drivers:
For more information on how to reduce the cost of car insurance for first time drivers, check out our full guide to getting cheaper premiums.
Black box car insurance for new drivers
Black box insurance – or telematics insurance – is a highly useful policy for young and inexperienced drivers, as it allows them to provide proof of their safe driving, without needing several years' no-claims discount.
The black box telematics device essentially measures your driving tendencies, such as your speed, acceleration, cornering and braking, and then reports that data back to you and the insurer. If you show that you are a safe driver, many insurers will then offer you a black box insurance discount, which can reduce the cost of your premiums by over 20% (as explained in our guide to the pros and cons of black box cover).
Learn more about black box insurance or get a quote from Ingenie (one of the UK's most popular providers) today by tapping the button below:
Get your car insurance quote today
Get started today by comparing your car insurance quotes with us here at Compare UK Quotes:
For more information on car insurance for new, inexperienced or young drivers, be sure to check out our related guides:
---