How to Protect Yourself this Halloween
The insurance you need to stay safe and enjoy Halloween.
---
---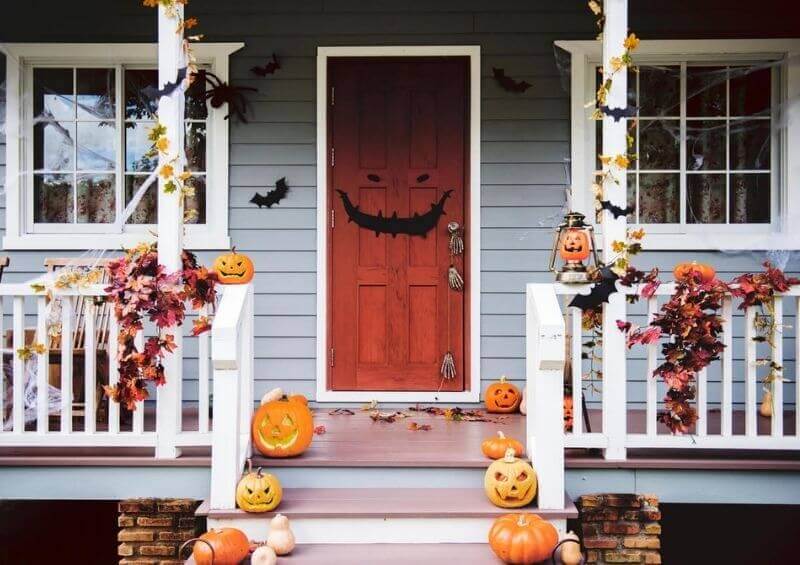 Millions of kids flock to the streets of the UK each Halloween dressed as zombies, ghosts, and other creepy characters in the hopes of getting some treats from their neighbours, while a small minority get up to no good and are more interested in playing tricks and causing trouble, which could quickly turn into harassment or vandalism.
A lot of the antics on Halloween are meant in good faith, but some dangers can arise, whether someone injures themselves on your property, walks in front of your car while trick-or-treating, or deliberately vandalises your home.
If you're having a classic movie night in, heading out with friends, or taking your own kids out for some classic trick-or-treating, these five tips will help you stay protected on the spookiest night of the year.
1. Be mindful of the extra pedestrians out and about
Recent research by Churchill car insurance found that the number of children hit by cars almost doubles every Halloween night.
If you hit someone while driving and the incident is deemed your fault, you could be held liable for any claims made against you, and it could also be pretty damaging psychologically.
Always stay mindful that there will be more people, especially children, out and about on Halloween night, and ensure that you remain cautious and drive with even more care than usual.
If ever you're involved in a car accident that wasn't your fault, having a good dash cam can help settle any claims more easily, without the 'your word against theirs' hassle.
2. Park your car away from potential danger
There's no doubting that a small minority of people will be out on Halloween with bad intentions, and parked cars are some of the easiest targets for those up to no good.
If it's possible, park your car in a garage overnight to reduce the risk of vandalism or any unpleasant Halloween tricks, but always ensure that it is locked and you make use of any security devices that you have (immobilisers, car trackers, and so on).
Alternatively, if you can't park your car in a garage or on a drive, leave it in a well-lit spot, ideally near somewhere with CCTV.
If you do intend on driving on Halloween, you can still get in the spirit of things with reusable Halloween car decorations, just don't let them distract you or block your view of the road or they could void your car insurance.
3. Get the right home insurance cover – Does home insurance cover vandalism?
Vandalism at Halloween will be covered by most home insurance policies in the UK, but it wouldn't hurt to check your policy's conditions beforehand, just in case.
Unless you find that vandalism is specifically excluded from your policy, chances are that your home insurance will cover the cost of any damages that occur during Halloween.
Whether it's a broken window, graffiti, or any other type of vandalism, the best home insurance policies will pay out so that you are never left out-of-pocket if ever you need to make a claim.
4. Protect yourself against slips, trips and falls
If you're an enthusiast that enjoys putting up Halloween decorations to spook trick-or-treaters, or you're even thinking about hosting a party, it's important that you consider the danger of slips and falls while people are on your property.
Slip hazards are aplenty on Halloween, whether it's fake gravestones in the garden or cotton spider-webs in your home. If someone trips and injures themselves, you could be held accountable for the cost of damages if they make a claim against you.
This doesn't mean that you should not decorate your home on Halloween, please do so until your heart's content, just be sure to leave walkways clear to avoid the distress of an injury claim.
If someone does unfortunately trip on your property, despite all precautions being put in place, your personal liability cover within your home insurance policy should cover the payout.
Accidental fires on Halloween
Flammable costumes and flaming pumpkins are never a good mix, and there are a wide range of fire hazards that can arise during Halloween.
To stay clear of any accidental fires on Halloween, you should:
Use specialist Halloween LED candles instead of a naked flame in pumpkins

Choose a costume that's flame-resistant and avoid flammable capes

Keep flammable decorations away from flames, bare wires and loose connections

Test your smoke alarm before decorating your home
5. Be vigilant and conscious of potential thieves
Statistics show that the number of home invasions and break-ins increase on Halloween, with many opportunist thieves making the most of empty houses as families head out for trick-or-treating.
Before going out with your kids for a party or some trick-or-treating, ensure that you have locked all doors and windows, and make use of any home security devices such as alarms and CCTV cameras.
It's also worth bearing in mind that you are more likely to open your door to strangers on Halloween, so if you feel uneasy about the person knocking at your door, do not answer it.
If you are ever subject to theft, be sure to claim on your home contents insurance policy to soften the blow and claim back anything that you lost.
Don't forget to enjoy!
After all, Halloween is all about enjoyment and the thrill of dressing up, decorating, partying, and enjoying a few classic films, so try not to lose sight of that.
Is Halloween dangerous? Well, it doesn't have to be. Stay safe and remain vigilant, but don't stress yourself out worrying about the possibility of a break-in or an accidental fire. As long as you're conscious of these five simple safety tips, your Halloween can be just as enjoyable as ever, while also as safe as is necessary.
If you enjoyed our insurance tips for Halloween, feel free browse our range of articles and you'll be sure to learn something new, whether it's related to home, life, or motor cover.
Related Articles:
10 Christmas Money-Saving Tips
The World of Modern Home Security
---