Car Insurance for 17 Year Olds
Getting cheap new driver insurance in the UK
---
---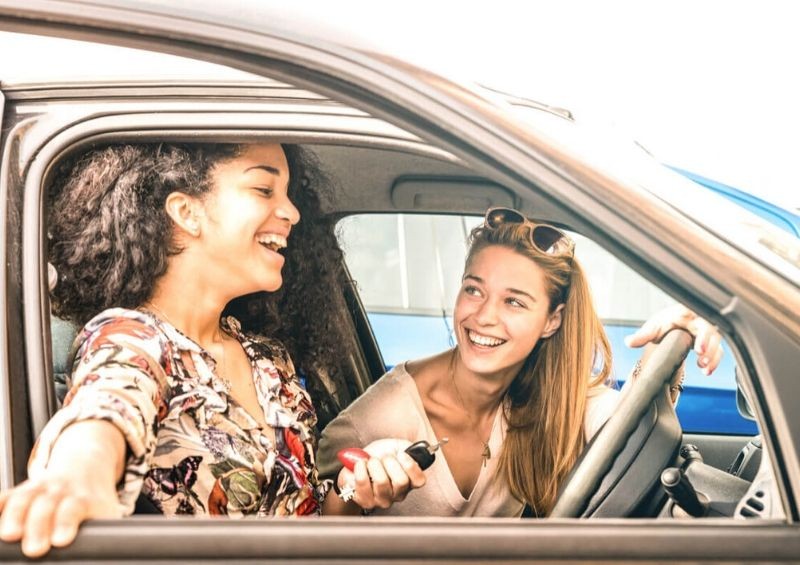 All drivers – including new drivers and those who have recently passed their test – are legally required to have car insurance in place if they intend on using their vehicle on UK roads.
Unfortunately for many of these new drivers, they will often face some of the highest premiums on the market. But why is car insurance for 17 year olds so expensive and how can you reduce the cost of your premiums as a new driver?
Here, we explain everything you need to know about car insurance for 17-year-olds, including what type of cover you need to get, how much it may cost you and how you might be able to reduce the cost of your premiums.
In this guide:
How Much Does Car Insurance Cost for 17 Year Olds?
Insurance for young drivers in the UK
Car insurance for young drivers is notoriously expensive, but there are ways to reduce the cost of your cover, as explained in this guide.
Getting your own insurance as a young driver can be daunting as it's likely to be unfamiliar to you, and there are many different types of policies to choose from.
What does car insurance cover?
What your car insurance covers depends on what type of policy you get. There are three main types of car insurance available, including:
Third party insurance (TPO): this is the minimum level of cover legally required to drive in the UK, which only provides a pay-out to cover damage or injuries sustained by third parties.
Third party, fire and theft insurance (TPFT): this level of insurance provides the same cover as TPO insurance, with additional protection against fire damage and theft.
Fully comprehensive insurance: this is the most extensive level of insurance available in the UK, providing cover for you, your vehicle and other road users.
Which type of cover you get depends on your personal preferences, but we usually recommend fully comprehensive insurance to protect yourself against all eventualities.
While fully comprehensive cover was traditionally labelled as the most expensive type of insurance, being the most extensive form of cover, research now shows that it is often the cheapest option for many drivers.
Read more: The Types of Car Insurance in the UK
How much is car insurance for a 17 year old?
According to MoneySupermarket, if you're aged between 17 to 19, a fully comprehensive policy costs an average of £917 per year. However, the average cost of cover for young drivers is reported differently by different sources, with some insurers reporting an average of over £2,000.
A recent report by Confused.com, looking at premiums between January and March 2020, found that 17 year olds paid an average of £2,047 for comprehensive insurance.
The best way to find out how much you will pay for car insurance is to get a quote with us here at Compare UK Quotes by tapping the button below.
Read more: The Average Cost of Car Insurance in the UK
Why is car insurance so expensive for young drivers?
The cost of car insurance is calculated using many different factors, such as:
Your age

The type of vehicle you drive

The level of cover you choose

Any vehicle modifications

Where you live

Where you park your vehicle overnight

The 'class of use' - what you use your vehicle for
Your age is an important factor for providers when determining the cost of your car insurance, and a rule of thumb is that you should pay less in premiums as you age and become more experienced.
Young drivers are statistically more likely to have a car accident. Drivers aged between 17 and 19 are involved in 9% of fatal and serious accidents, despite only accounting for 1.5% of full UK driving licences.
In 2016, just 7% of UK driving licence holders were under 25 years old, but that age group accounted for almost a quarter of all fatal road traffic collisions. Again, in 2017, those between 17 and 19 years old had the highest percentage of casualties from road traffic accidents of all age groups.
Insurers use statistics like these to help determine the risk that different age groups pose.
In short, the main reasons why car insurance is so expensive for 17 year olds and other young drivers are:
A lack of experience

Statistics show that they are more likely to make a claim
How to get cheap car insurance for 17 year olds
Despite it being generally accepted that car insurance for young drivers is expensive, there are ways to get cheaper cover.
Here are eight simple steps to follow to get the most affordable car insurance available:
Does the Pass Plus scheme lower the cost of car insurance?
Many people are led to believe that the cost of car insurance for 17 year olds and less experienced drivers will be reduced dramatically if they complete an advanced driving course, such as the Pass Plus scheme, but this isn't always the case.
MoneySupermarket recently held a study to determine whether or not the Pass Plus scheme really could reduce the cost of car insurance for young drivers. This research found that the average driver saw absolutely no difference in their car insurance premiums whether they had completed the Pass Plus course or not.
It is true, however, that each person's situation is different, and you may find that it has a positive impact on your premiums. The only way to find out is to compare quotes.
There are also some providers which offer special Pass Plus insurance discounts to their customers, so that may be something worth considering if you have already gone through the trouble of paying for and completing the course.
Read more: How Much Does the Pass Plus Scheme Save on Insurance?
Named driver insurance
As mentioned, adding a named driver to your insurance policy could save you a significant amount of money on premiums in the UK.
The 'named driver' – which may be a parent, guardian or experienced relative – is essentially listed as a secondary driver, so they must not use the vehicle more than the 'main driver'. Despite the temptation of cheaper premiums, do not list yourself as the named driver if you are the primary user of the vehicle, as this is a form of fraud known as fronting and you could face some serious consequences.
Read more: How Does Named Driver Insurance Work?
Black box insurance for 17 year olds
Black box car insurance – also known as telematics insurance – is one of the best ways to save money on your premiums as a young driver.
The black box device basically monitors and measures your driving tendencies – including your speed, acceleration, braking and cornering – and then reports it back to you and your insurer. This information is used to help determine how safe a driver you are, and could lead to a useful black box insurance discount.
So, if you're a responsible driver, black box car insurance is something that you really should be considering.
What is the cheapest car to insure for a 17 year old?
The type of vehicle you drive has a significant bearing on the price of your insurance, which is why you should think carefully about how much a car will cost to insure before you buy it – you may be able to afford the monthly lease payments for a brand-new sports car, but can you afford to pay thousands of pounds for cover every year?
Instead, you should opt for a vehicle that you can afford and one that is also relatively cheap to insure. In order to get an idea of how much certain cars cost to cover, you should check their car insurance group.
Some of the cheapest cars to insure in the UK include:
Volkswagen Polo

Hyundai i10

Nissan Micra

Ford Fiesta

SEAT Ibiza

Vauxhall Corsa
Read more in our guide to the best, cheapest cars to insure in the UK.
Can a 17 year old get car insurance on their own?
It is entirely possible to get car insurance on your own as a 17-year-old – you don't need to take out cover with your parents or guardians.
While some providers may not offer car insurance to 17 year olds, many of those that do will offer it at very high premiums. It may therefore be a good idea to talk to your parents or guardians about getting named driver insurance, as mentioned above, as it could help reduce the cost of your premiums.
Insurance for learner drivers
If you are still learning to drive, you will need your own insurance if you are going to be driving a vehicle outside of lessons.
However, insurance is provided as part of all driving lessons, so you only need additional cover if you are going to be practicing outside of lessons with family members or other experienced drivers. If this is the case, you may want to get temporary car insurance or specialist learner driver cover.
Read more: How to Get Cheap Learner Driver Insurance
Temporary car insurance for 17 year olds
Your insurance as a learner driver can either be temporary cover or specific learner driver insurance, so it's important that you consider your options carefully if you want additional protection outside of lessons.
While it is a legitimate option, temporary car insurance for 17 year olds can be overly expensive due to the added risk posed by younger drivers, and some providers might even refuse to offer you cover. In this scenario, you will be better off looking for a learner driver insurance policy being offered by a specialist provider.
Best car insurance for 17 year olds
Finding the most affordable and best car insurance policy for you can be difficult and sometimes overwhelming if you don't know where to start. In order to help you, here at Compare UK Quotes, we offer a range of helpful guides and articles to allow you to explore your options and find useful ways to get cheaper premiums.
Get your car insurance quote today by tapping the button below, or learn more about motor insurance in our related articles:
---