Drivers Waste £300+ on Car Insurance With This One Mistake
---
---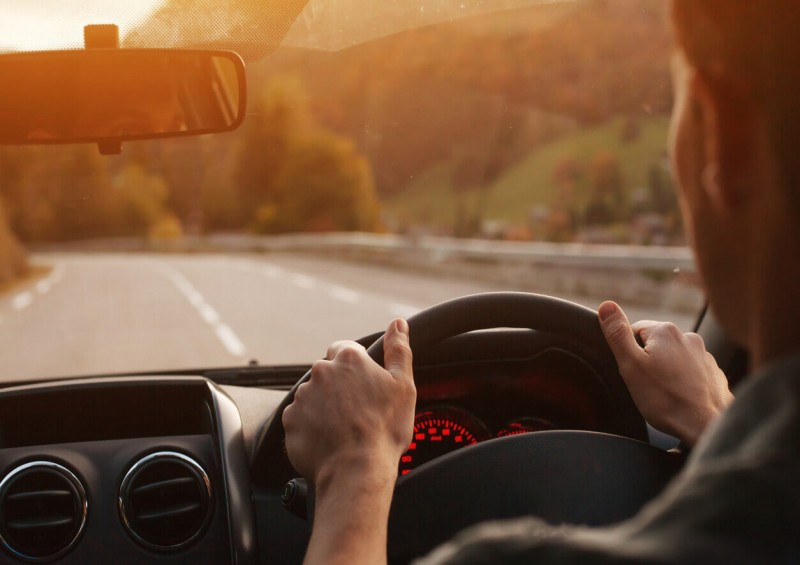 Every year, many UK drivers waste hundreds of pounds by not switching their car insurance policy until close to or on the renewal date, because let's face it, most of us tend to put off dealing with tedious tasks like switching car insurance providers until we really have to.
So when to switch car insurance is not usually something any of us really have time to question, think or worry about. And, as a result, this is the one mistake that is costing UK drivers a shocking £300 or more per year.
Compare car insurance quotes now to see how much you could save by switching:
When is the right time to switch providers?
Compare the Market research has revealed that if you wait until the car insurance renewal date to switch from an existing policy, the average cost of car insurance is £776.
Whereas if you switch car insurance 21 days before the insurance renewal date, the average cost is £457. That's a WHOPPING difference in car insurance prices of £319!
So the very best time to switch car insurance providers to save money is 3 weeks before your policy renewal date, as illustrated below.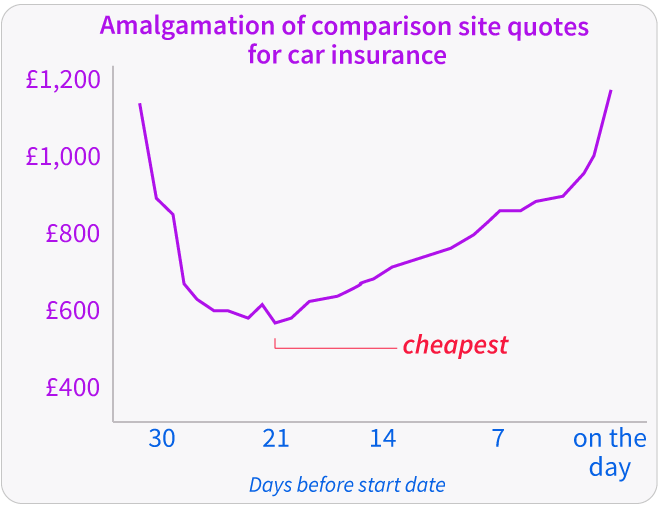 Source: Money Saving Expert
How to change car insurance
So now you know you can save hundreds of pounds if you change car insurance providers 3 weeks before your motor insurance renewal date. But how do you go about switching your car insurance provider?
Top 10 things you need to do or consider when switching car insurance:
1. Cancel your existing policy
Cancel auto-renew on your existing policy (if applicable) and/or notify your existing insurer that you intend on switching providers. Check if there are any administration or other fees payable for doing so. It's worth remembering that in most cases, your insurer won't want to lose you as a customer, so they may try and match or beat any quotes you find online. If so, great! But if they can't, you will be much better off leaving and getting cover with someone else.
2. No claims bonus
Check how many years no claims bonus you have (if any). You may have to produce evidence of your no claims bonus to a new insurer. If you have not already got evidence of this, request this from your current insurer.
3. Research
Thoroughly research what you can do to reduce your insurance costs and the over
4. Car Documents
Make sure you have your car registration document/V5 log book, MOT certificate and driving licence to hand. If you are including a named driver, make sure you have their driving licence or number to hand too.
5. Mileage
Check how many miles you travel each year. If you're not sure, you can do this by comparing the mileage shown on your last two MOT certificates or by calculating an accurate figure based on the number of miles you actually drive.
6. Dash Cam
If you have a dash cam, ensure you have the make/model details to hand as some insurers offer reduced premiums for certain (approved) brands.
7. Modifications
Have details of any car modifications to hand as your insurer will want to know about them.
8. Quotes
Obtain competitive quotes for insurance online by using a reputable insurance price comparison website.
9. Car cover
Make sure you request quotes for all types of car cover, including fully comp. Fully comprehensive car insurance usually works out cheaper than third-party cover and offers the most extensive protection while on the road.
10. Convictions
Check any driving convictions are 'spent' (if applicable). If you have had driving convictions in the past and are not sure if these are spent, check online before requesting quotes as you are legally required to declare unspent convictions to your new insurer so as to avoid invalidating your insurance.
Once you have dealt with everything on the above checklist, go online to compare cheap car insurance quotes.
If your quotes are coming in quite high and you'd like more affordable insurance quotes, there is a lot you can do to reduce your insurance premiums.
17 Ways to Get Your Car Insurance Cheap:
Renew 3 weeks early
Choose your job title wisely
Install a dash cam
Get a Thatcham-approved alarm
Choose Black Box insurance
Add a named driver
Pay up front
Don't underestimate mileage
Avoid certain car modifications
Don't declare 'spent' driving convictions
Increase your voluntary excess
Shop around for quotes
Park on a driveway or in a garage overnight
Boost your credit score
Opt for multi-car insurance
Go electric
If you follow the above guidance, we are certain that you'll get much cheaper insurance deals, year in, year out.
If you often forget when your insurance is due for renewal, take a look at our blog: When is My Car Insurance Due? This article gives useful advice on how to find out when your insurance is due for renewal and how to avoid renewing too late in the future.
Tap the button below to get started on your car insurance quote, or take a look at our relates article below for further advice and information.
Related guides
---